Align Technology®, iTero, and 32 Pearls team up with the NFL to deliver high performance and reliability for Seattle dental patients.
We talk a lot about Invisalign®. There is a specific reason why we do. It's because we, 32 Pearls, Align Technology Inc. (maker of Invisalign), and iTero® Digital Scanning are part of a whole system that brings people together. It's the same way a football team comes together to make a great team. It takes dedication, design, planning, research, and precise execution to help all team members generate their best performance. We bring you a superior product functioning at an optimal level of performance, and we're doing it with the help of America's favorite pastime. Together we bring together patients who want to improve their lives with the skilled dentists that deliver "winning smiles."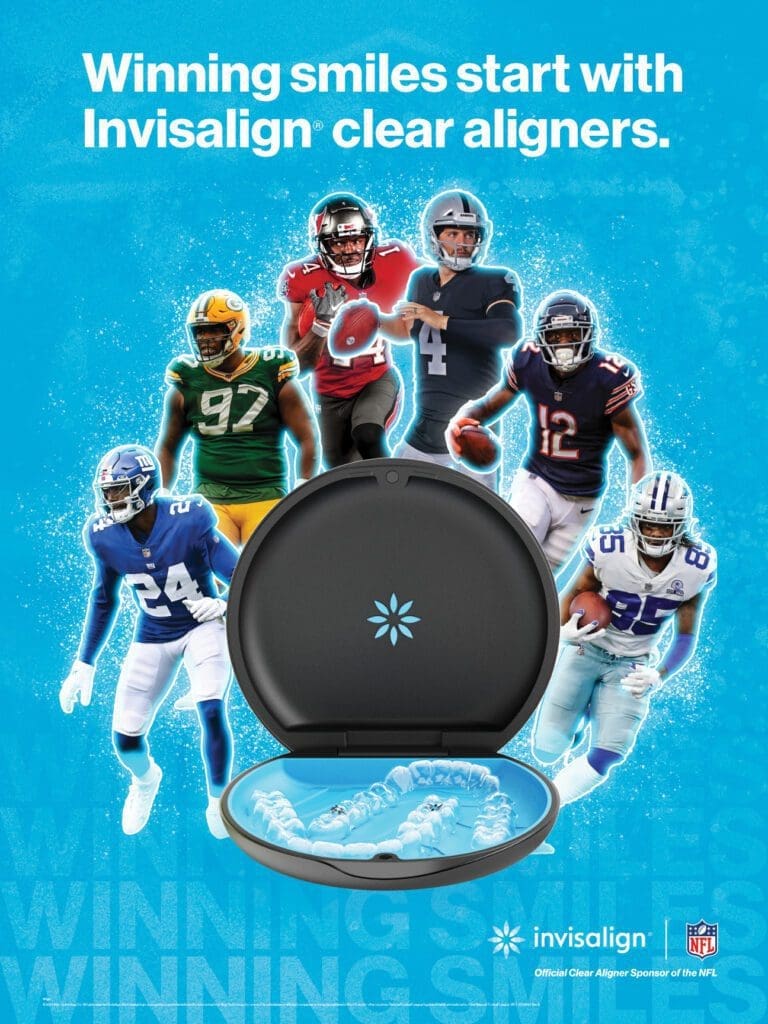 Align Technology® and iTero Intraoral Scanners
Align Technology® and iTero Scanning® make your visit to the dentist go smoother and faster than ever before. Let's face it. As comfortable and painless as we can make it, you still want to get out of the dentist's office and do something else—like kick back and watch the game. So as you sit back in the dentist's chair and relax, the iTero Scanner quickly takes impeccable, detailed 3-D images.
iTero scanning provides reliable images quicker, which means the dentist can make the most suitable decisions regarding your dental experience. Due to the vibrancy and comprehensive images iTero scanners produce, dentists can easily share with patients what needs improvement and how the process works. The patient gets the satisfaction of observing their progress as it takes place—in vivid color and high resolution. Not only is this technology used for Invisalign®, but many types of restorative dentistry.
Our Team and The NFL
Now you know the team players. (Align Technology/ Invisalign®, iTero Scanners, and 32 Pearls) You know how far we have come to help patients move forward with dental restoration. What is the best way to tell you that teeth straightening is easier than ever? The answer is simple. Meet our new teammate. The NFL. Read more about the Invisalign brand named Official Clear Aligner Sponsor of the NFL.
Invisalign provides the relief asked for by patients.
Dentists asked patients about the problems with braces because knowing what hurts is the only way to fix what hurts. Braces cause many hurdles and difficulties for patients, and we listened to your complaints. That is why we want you to know about the immeasurable difference Invisalign® provides.
32 Pearls is an Invisalign®-approved dentist and a Top 1% Diamond Invisalign® Provider. Invisalign's partnership with the NFL increases the connection with us so that you get the appropriate desired care.
Invisalign Solutions & Benefits
Invisalign is the best-recommended way to STOP grinding your teeth.
Trays are removable.
No wires, rubber bands, or pesky metal pokes.
Access to 32 Pearls orthodontic care team.
You gain confidence when you smile.
Immediate results you can see.
Maintain a beautiful smile that lasts a lifetime.
Join Team Invisalign and support your favorite NFL team and the local community.
When you join the team of Invisalign users, you join over 8 million people who have had their lives changed with extraordinary smile transformations. As we grow further and produce more "winning smiles," we also use every opportunity to expand into the community. Invisalign and the NFL are always proud to engage in community outreach and promote the further development of youth initiatives. With Invisalign, not only are you improving your smile, you are making a positive difference to those lives around you. Check out Invisalign ChangeMakers Program.
Now you can understand why we've teamed up to bring you the #1 breakthrough in dental technology. It's no wonder why the NFL has joined our community to bring you a product that exceeds expectations. It's not only about an outstanding product and excellence in dentistry. It's about bringing people together.
32 Pearls offers Invisalign at the right price.
In order to help patients receive accessible dentistry, our team's commitment provides Invisalign at an affordable price.
Our Invisalign Package Is All-Inclusive:
Invisalign is now more than 50% off. Our price is $3,200. Reg. price is $6,600
Add $200 off Invisalign when you get Covid-19 vaccinations at our office.
Retainers, Records, and Aligners included
5-year follow up (If at any time within five years of treatment you have a relapse, we will fix it free)
FREE Bleaching – Invisalign trays have a unique scalloped design that keeps bleach away from the gums, preventing irritation and burns
You can use your insurance and HSA benefits for this, making it even MORE affordable.
Contact us for a winning smile and get a free consultation.