Bridges are an easy job for an experienced dentist. At 32pearls, we perform them all of the time. As a patient, all you have to do is sit back and relax. It is your only job. We delight in taking care of you.
Healthy teeth help support and maintain your jaw alignment. When you lose one or more teeth, your remaining teeth may shift, affecting your ability to chew and speak. A bridge replaces missing teeth with great looking replacement teeth that look identical to perfectly healthy natural teeth, eliminating the gap where those teeth had been. The bridge is then bonded onto surrounding teeth for support.
You may be wondering what to expect when it comes to a dental bridge or how is it different from dental implants.
Dental bridges connect the spaces in between missing teeth. In order to form a bridge, a crown is needed to affix the new false teeth or tooth.
Crowns are covers or fixtures that are applied to the new tooth that will form it into its original shape. Crowns often enhance the durability of the teeth and will magnify the way your teeth look and feel.
The false teeth that replace the original teeth are called pontics. They are often produced from porcelain, gold, alloys or a mixture of these.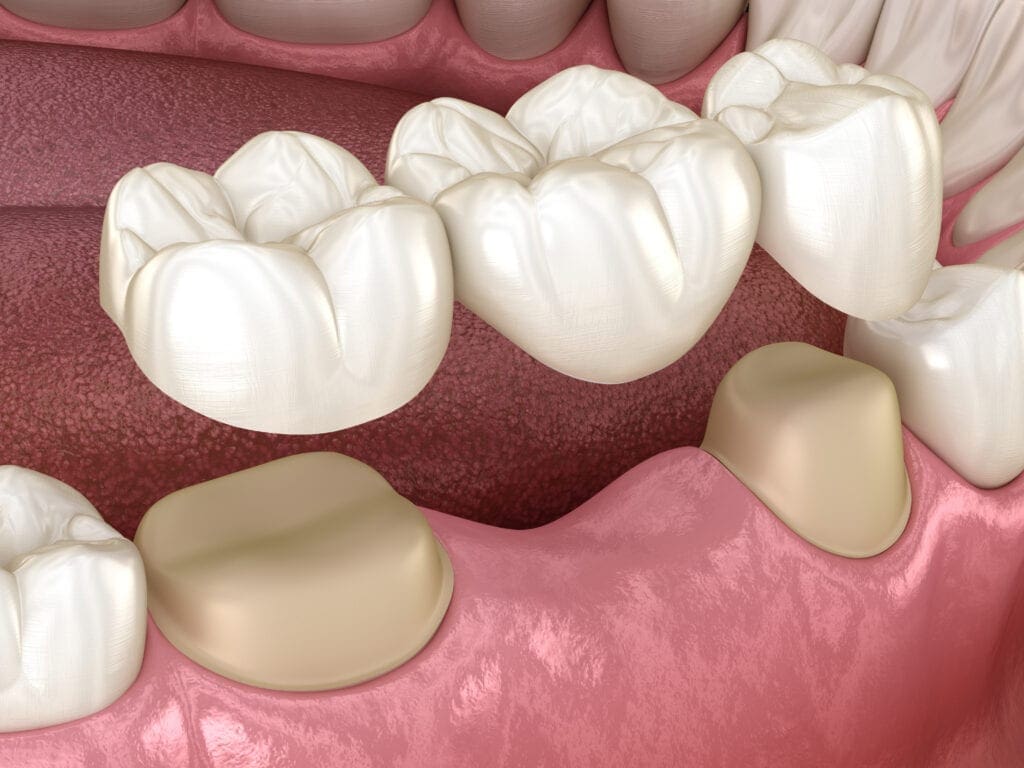 Dental Bridges and Benefits
Replace missing teeth
Protects surrounding teeth from movement or shifting
Regain full usage of teeth for eating and speaking
Ability to fully smile again
Types of Dental Bridges
Maryland Bonded Bridges
The Maryland bonded bridge or resin bonded bridges include a false tooth or pontic that is attached to your existing permanent teeth on either side of the missing tooth. The new tooth is connected to a set of 'wings' made out of porcelain or metal on one side. Maryland Bonded Bridges consist of porcelain, porcelain fused to metal or a framework made from plastic teeth and gums.
Maryland Bonded Bridges have been known to increase the quality of patients dental care.
Cantilever Bridges
A Cantilever bridge is necessary when there are teeth solitary on one side of the missing tooth. The practice is uncommon and gives not much to fret about.
Traditional Bridges
Traditional Bridges create a crown for each side of the missing tooth. (As described above.) The substitute pontic is then used as a false tooth. It is a simple and most commonly used technique for dental bridges.
The Dental Bridge Procedure
In only two visits, you will be proud to smile and feel as good as new.
Visit #1
Your abutment teeth will be prepared. Abutment teeth are the teeth that support the bridge. They are also known as prosthetics and provide the area with parallel insertion. They give the crown a more realistic appearance. A portion of enamel will be removed so that the new crown will fit properly. A new model will be made from impressions of the teeth so that the bridge, pontic and crowns will be manufactured by the lab. A short-term or temporary bridge will keep exposed gums and teeth protected in the meantime.
Visit #2
You made it and all is well. Your interim bridge will now be removed and fitting for your new bridge will take place to guarantee you comfort. Checking the teeth and re-adjusting is often necessary to align the bridge to fit your mouth perfectly.
Sometimes, a few extra visits are necessary because every patient is truly different and no one is the same. Trusting in 32 Pearls Dentistry will make your bridge process easy and comfortable.
Contact us today for a free consultation.