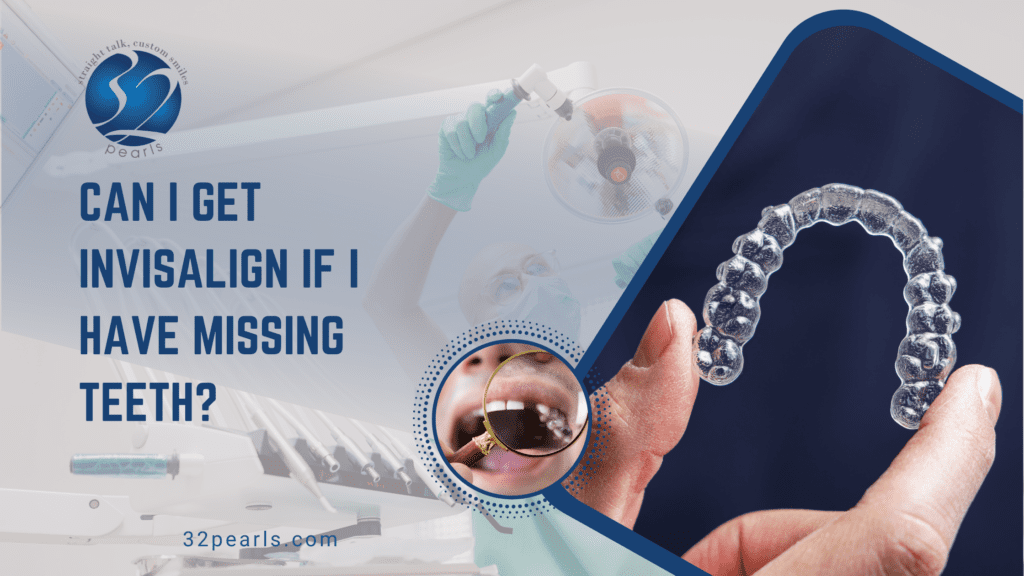 Pay 0% interest on Invisalign® payments as low as $99 per month.
Yes, you can get Invisalign to address problems with missing teeth. If you have missing teeth, you can still get Invisalign. Your treatment plan will include a "fake" tooth that your dentist will insert into the empty space of the missing tooth. It is made of crowns and fits onto the aligner. Even with missing teeth, 32 Pearls and Invisalign work miracles to give you the smile of your dreams. Call 32 Pearls today to transform yours! (206) 322-8862
Unlimited options with Invisalign
There are different options for replacing teeth with Invisalign. One common option is to have a crown made and fitted onto the aligner.
The simplest option is to create a crown for the aligner and place it over the missing tooth, but there are a few other options as well. A bridge or implant can also be made and fitted onto an Invisalign aligner. The process for placing a crown on your aligner is similar to the procedure of placing a regular crown on a tooth—and you can get a crown for any tooth. The lab will make sure that the shade of the crown matches your teeth perfectly, so no one will know that you have the replacement.
Your dentist will take an impression of your teeth and send it to a digital scanning center where Invisalign develops the aligners using 3D printing technology and accurate instructions from your dentist about what needs to be adjusted.
Great news! You can get Invisalign even if you have missing teeth or large gaps.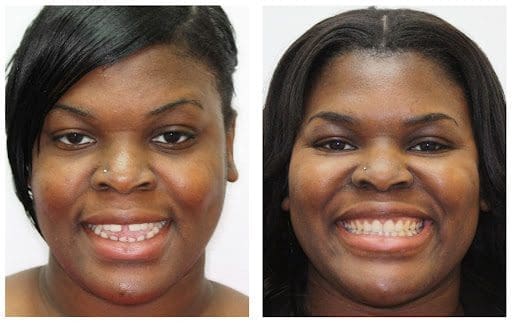 Invisalign works for both people that have missing teeth as well as large gaps between teeth.
It may take a little longer to get the smile you are looking for and treatment plans vary depending on how many teeth are missing, but that doesn't mean you can't get that gorgeous smile of your dreams with Invisalign!
Even with large teeth gaps, Invisalign works to bring large gaps between teeth together for a better smile!
The first step is to visit your dentist for an initial consultation to see if you are a candidate for Invisalign. Your dentist will set up an appointment with an Invisalign-certified orthodontist who will determine if Invisalign can help fix your problem. Call us so that we can determine if you are a great candidate for Invisalign. (206) 322-8862
Almost all dental misalignments are fixed with Invisalign.
If the orthodontist determines that they can fix the issue with Invisalign, they will take an impression of your teeth and send it to a digital scanning center where Invisalign develops the aligners using 3D printing technology and detailed instructions from your dentist about what needs to be adjusted.
Missing teeth can cause many problems, including shifting of other teeth and difficulty chewing or speaking normally.
Invisalign can address problems caused from missing teeth.
When you're missing a tooth, the gap it leaves behind can cause the surrounding teeth to shift toward that space. This can cause your bite to be uneven and may lead to jaw problems down the road. Invisalign aligners are custom-made for your mouth, so they fit snugly around all of your teeth—even those in the back of your mouth. The aligners will hold your teeth in place even when they don't have natural neighbors on either side, helping prevent them from shifting toward empty spaces.
If you have missing front teeth, this may also affect how you speak clearly. Even if people around you can understand you just fine, this may still negatively affect how confident and/or comfortable you feel speaking with others. By straightening your remaining misaligned front teeth with Invisalign aligners, you'll likely find that speech becomes easier because fewer words "catch" on pieces of misaligned upper or lower front teeth as they pass by each other during speech.
If you have missing teeth, Invisalign is an excellent orthodontic treatment option for you.
Invisalign can help you in several ways if you have a missing tooth or teeth. When you have a gap, the teeth surrounding the gap may shift over time. These shifts can cause speech issues, difficulty chewing food and/or an uneven bite. Invisalign can adjust your bite and reduce these symptoms.
If you have spaces between your teeth, even after you've had the tooth extracted, Invisalign will align those remaining teeth to close the gaps. If your remaining teeth are crowded it will move them into better alignment for aesthetics and function.
If you're embarrassed by your missing tooth/teeth or associated issues such as gaps in your smile, Invisalign is an excellent option for you because it is virtually invisible treatment that requires no brackets or wires. 
Our Invisalign 32 Package Is All-Inclusive:
Pay 0% interest on payments as low as $99 per month.
Retainers, Records, and Aligners included

5-year follow up (If at any time within five years of treatment you have a relapse, we will fix it free)

FREE Bleaching

– Invisalign trays have a unique scalloped design that keeps bleach away from the gums, preventing irritation and burns

You can use your insurance and HSA benefits for this, making it even MORE affordable
Visit our office for a FREE Invisalign consultation to see how we can give you a smile that you deserve.
See our
Invisalign information page
to find out how to save over
50% off
on Invisalign with a complimentary smile assessment. Call (206) 322-8862