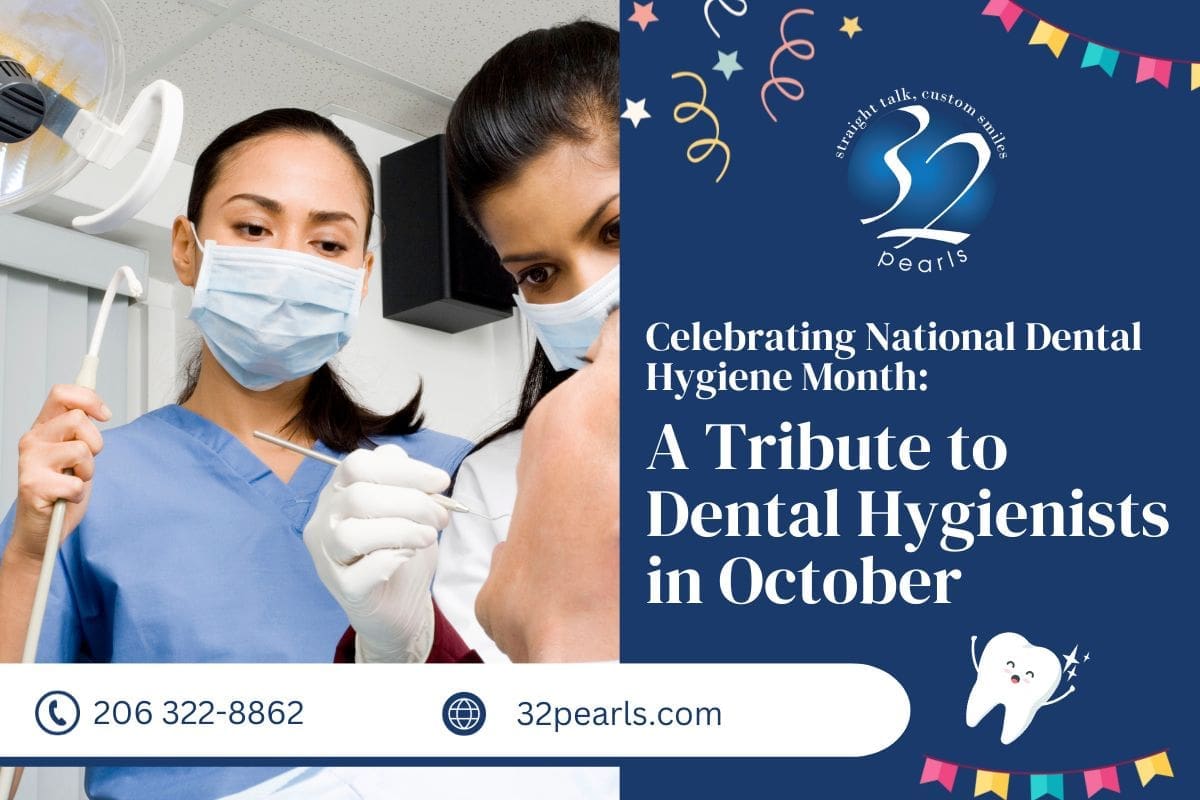 Meet Our Exceptional Team at 32 Pearls Dentistry: Your Smile's Best Friends!
At 32 Pearls Dentistry, October holds a special place in our hearts. It's not just because of the fall foliage and pumpkin-spiced everything; it's because October is National Dental Hygiene Month! 🍂
We are deeply honored Seattle patients choose 32 Pearls Dentistry for their trusted dental care. Your confidence in us forms the foundation of our practice, and we consider it a profound responsibility.
Your comfort and peace of mind become our top priority when you step into our office. We want your visit to be as comfortable and anxiety-free as possible. Here's how we make that happen:
Comprehensive Dental Services:

At 32 Pearls, we offer a wide spectrum of dental services to meet your unique needs. Whether it's a routine check-up or a specialized procedure, we've got you covered. Your oral health is our mission.
Clear Communication:

We believe in transparent communication. Before any procedure begins, we take the time to discuss your treatment plan thoroughly. We want you to be well-informed and feel at ease every step of the way.
Convenience:

Enjoy the convenience of free parking, 2 locations, and access to free Wi-Fi during your visit. 
Advanced Technology:

Your safety is paramount. We utilize digital x-rays, emitting only 1/5th of the radiation of traditional x-rays, because we believe in embracing technology for your benefit.
Hassle-Free Insurance:

Say goodbye to the paperwork hassle! We handle all the insurance paperwork so you can focus on what truly matters – your smile.
We want you to know that your questions and concerns are always welcome. Our friendly and knowledgeable team is here to assist you, ensuring your satisfaction every step of the way.
But we'd like to spotlight another group of individuals during National Dental Hygiene Month – our incredible dental team. These unsung heroes do the essential work of ensuring our patients are comfortable and well taken care of, and they excel in keeping mouths clean and healthy.
Dental hygienists are the backbone of good oral health. They work tirelessly to ensure your dental experience is efficient and comfortable. They are experts at what they do, and their dedication to your well-being is commendable.
So, as we celebrate National Dental Hygiene Month, let's take a moment to appreciate and thank the dental hygienists who are instrumental in maintaining our smiles. They are the ones who go the extra mile to ensure your oral health is in top-notch condition.
Meet our team at 32 Pearls Dentistry. Each member plays a crucial role in your dental care journey:
Miriam – Dental Assistant: Miriam is your chairside companion, ensuring your comfort and assisting our dental professionals during your procedures. Her expertise and caring nature make your dental visits smooth and stress-free.
Marlene – Dental Hygienist: Marlene is our dental hygiene expert, committed to keeping your smile healthy and bright. With her gentle touch and extensive knowledge, she helps maintain your oral health.
Roni – Office Coordinator and RDA (Registered Dental Assistant): Roni wears multiple hats, from coordinating your appointments to providing valuable dental assistance. Her versatility and dedication ensure your overall experience at our office is exceptional.
Nina – Office Coordinator and RDA (Registered Dental Assistant): Nina is another valuable member of our team who assists you both at the front desk and in the treatment area. Her warm smile and efficiency contribute to a welcoming environment.
Simran – Registered Dental Hygienist: Simran is your partner in achieving and maintaining optimal oral health. She will meet your dental hygiene needs with the utmost care and professionalism, ensuring your satisfaction.
Together, our team is here to provide you with top-notch dental care and support. Your smile is our priority, and we look forward to serving you excellently. 🌟🦷
As a friendly reminder, we now offer
three additional Invisalign® options
to personalize your smile transformation!
At 32 Pearls Dentistry, we believe in giving you the power to make informed choices about your dental care, especially regarding teeth straightening with Invisalign®. Unlike conventional practices that prescribe a one-size-fits-all approach, we allow you to select the Invisalign® package that aligns perfectly with your needs and desires. We commit to working closely with you to create a tailored plan, ensuring you achieve your desired results.
We take pride in offering a diverse range of choices, allowing you to choose the package that suits you best. Our dedication is to deliver high-quality teeth straightening care with accommodating options.
Excitingly, we've expanded our Invisalign® offerings with two new options, giving you more control over your smile transformation. You now have the freedom to customize your treatment with valuable add-ons, including Vivera Retainers, known for their exceptional durability, and KöR® Whitening, a dentist-grade teeth whitening system exclusively available in our office.
New Invisalign® Options for Your Smile Journey
$3500: Invisalign® + Free Take-Home Whitening: This budget-friendly option includes everything you need to start your journey towards a straighter smile, with the added bonus of complimentary at-home bleaching for a dazzling white smile. 
The above offer is 50% off the regular price of Invisalign®.

Pay 0% interest for low monthly payments of $99.

No Insurance? No Problem. Ask us about our payment plans.
$3900: Invisalign® + Take Home Whitening + Vivera Retainers: In addition to the benefits of the first package, you receive Vivera Retainers to maintain your results and the expertise to address complex cases.
$4200: Invisalign® + Take Home Whitening + Vivera + KOR In-Office: This premium package includes all the previous advantages, plus in-office KöR® professional teeth whitening, ensuring optimal results.
See more information at our Invisalign® Special Offer.

Don't need Invisalign®? No Problem. See a list of our comprehensive services!