Seattle Invisalign is now only $3200 for a limited time when you get your smile assessment and iTero scan at 32 Pearls.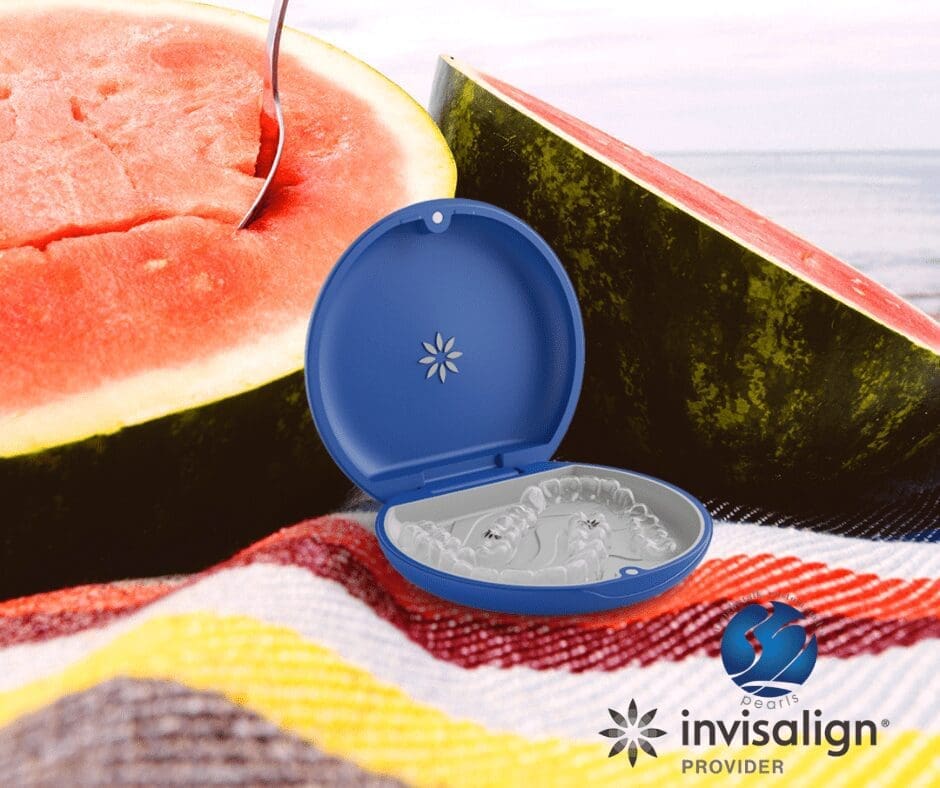 Summertime is a great time for Invisalign in Seattle! No matter where you live or what season it is, straight teeth are something that everyone wants. Finally, after lockdown, businesses and public events are open again. It's time to go out and see each other face to face. Now is the time to meet new people and make friends. Summer fun includes taking pictures, laughing out loud, and lots of talking. Fans are racing to sporting events and concerts where they will cheer, yell and laugh. Summer brings picnics, parades, and festivals that always include enjoying new foods, music, and games.
For all of these occasions, you want to look and feel your best. There is nothing else that will make you feel more confident than when your teeth are clean, straightened, and bright. Why not get your teeth straightened and aligned with a system that gives you control of when you wear them? Invisalign trays are removable for eating, drinking, brushing, and kissing. The trays are comfortable enough to leave in at any time. The more you leave them in, the faster they work. Whatever summer activity you choose to do, Invisalign works with you.
Eight Fantastic Reasons You Want Invisalign this Summer
For a limited time, 32 Pearls offers Invisalign for $3,200. Normally, teeth straightening options can cost up to $7,000, but the price has been reduced for summer. 32 Pearls believes that all people have a right to healthy dental care, including teeth straightening. Most insurance will pay up to $3,000 or more for Invisalign, and there are many more payment options. Right now, through June, you can get this low price on Invisalign.
Imagine your beautiful new teeth sparkling at the start of 2022. By the end of this year, you could be almost finished with treatment. If you start your smile journey as soon as possible, you will be feeling so good and so healthy by winter. You'll never have to worry about how you look because you'll already be where you want to be.
Meet and greet with other Invisalign patients is fun! Share your stories and connect with other patients that also wear Invisalign. Talk about goals and experiences while participating in a fun activity. Encouragement between people with similar experiences is healthy and healing. You can start your own Seattle Invisalign group on Meetup, Facebook, or at coffee shops.
Good hygiene anytime will save your teeth. Although summer is a great time to get Invisalign, anytime is a good time for proper dental hygiene. Believe it or not, 25% of Americans do not have teeth because they could not sustain suitable dental care. If you do have the ability to take care of your oral care, you'll want to take the time to straighten your teeth and see your dentist because, let's face it, without teeth, life can be hard.
Invisalign allows you to enjoy your favorite summer foods. In the past, patients with braces could not eat corn on the cob or apples because hard foods broke the metal wires. Eating treats such as smores or chewing gum was totally out of the question because it was difficult to pry the candy and gum off the braces. Now, you remove the aligners, eat whatever you want (on occasion), and put your aligners back in after brushing your teeth.
No one knows you are wearing Invisalign unless you tell them. The best thing about Invisalign is that they are almost invisible. Be confident, secure, and happy because whatever you are doing, your Invisalign can go there with you, but embarrassment does not.
At 32 Pearls, you receive the royal treatment with high-quality care and state-of-the-art equipment. You'll be taken care of by a Top 1% Diamond Invisalign provider and a team of hygienists that go above and beyond for your comfort, experience, and satisfaction.
Your Invisalign consultation is FREE. You pay nothing to sit with our staff and discuss as much as you want about your smile and how you want it to look. You will get your free smile assessment plus all the information you need to get you started.
Please see our 50% off Invisalign sale for more information. Call or contact 32 Pearls today to schedule your free consultation. (206) 322-8862