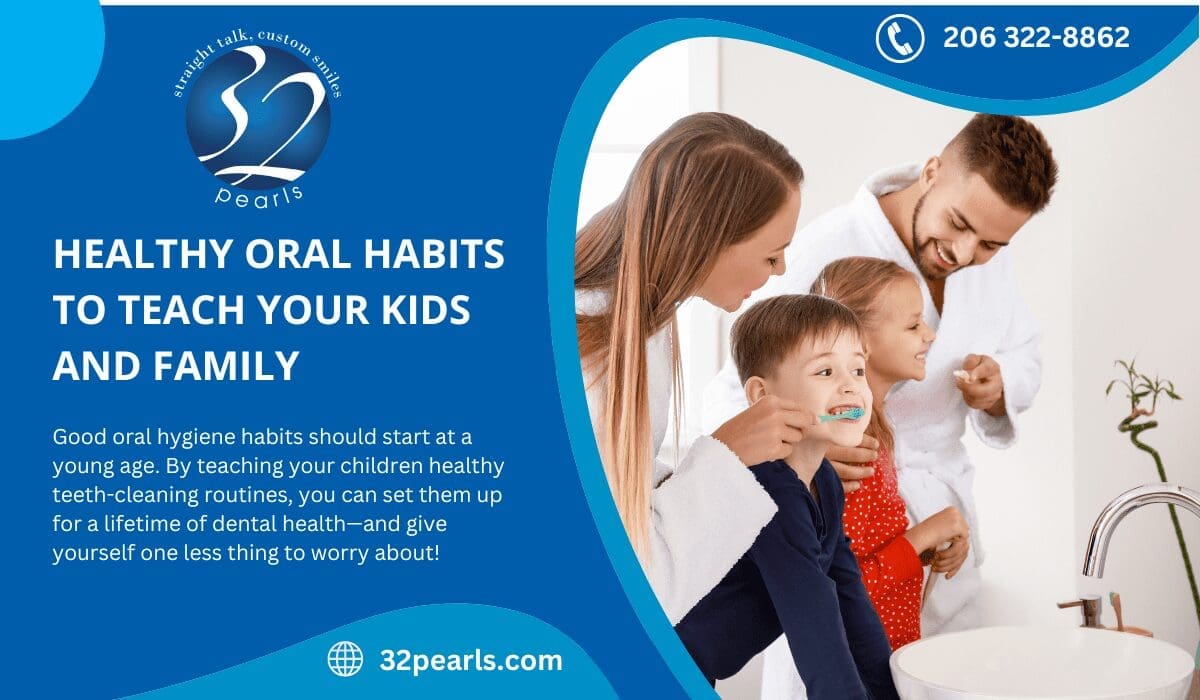 32 Pearls: Your Partner in Achieving a Healthy and Beautiful Smile
As a parent, you want your child to grow healthy and strong. Oral health is an area often overlooked. Many parents don't realize that good oral hygiene habits should start at a young age. By teaching your children healthy oral habits, you can set them up for a lifetime of healthy teeth and gums. This blog post will explore some of the most important oral health habits to teach your kids.
The most important oral health habit to teach your child is brushing their teeth twice daily. This is the foundation of good oral hygiene. Brushing removes plaque and bacteria from the surface of teeth and gums, preventing cavities and gum disease. It's important to make brushing enjoyable, so your child will look forward to it. Consider buying a toothbrush with their favorite cartoon character or playing music while they brush.
In addition to brushing, flossing is another essential habit for maintaining healthy teeth and gums. Flossing removes food particles and plaque from between teeth, which a toothbrush can't reach. Encourage your child to floss once a day, preferably before bedtime. You can make it a family activity by flossing together.
A healthy diet is important for overall health, including oral health. Eating a diet rich in fruits, vegetables, whole grains, and lean proteins can help strengthen teeth and prevent tooth decay. Avoid sugary and acidic foods, such as candy and soda, which can erode tooth enamel and lead to cavities.
Drinking water is not only good for overall health, but it's also great for oral health. Water helps rinse food particles and bacteria from the mouth, preventing plaque buildup and bad breath. Encourage your child to drink plenty of water throughout the day, especially after meals and snacks.
Regular dental checkups are essential for maintaining good oral health. Dentists can detect early signs of cavities and gum disease and provide treatment before they become more serious problems. Make sure to schedule dental appointments for your child every six months.
Some habits harm oral health, such as thumb-sucking, nail-biting, and using teeth as tools. Encourage your child to break these habits early on, which can lead to misaligned teeth, tooth decay, and other oral health problems.
Using Protective Gear During Sports
A mouthguard is an essential piece of safety equipment that can protect your child's teeth and gums during sports. While appropriate for high-contact sports, such as football and hockey, they also prevent dental injuries in other activities that could result in trauma to the mouth.
Leading by example is one of the most effective ways to teach your child healthy oral habits. Ensure you brush and floss your teeth regularly, and demonstrate good eating habits. You can also involve your child in your dental appointments so they see firsthand the importance of oral health.
Healthy oral habits are essential for maintaining strong, healthy teeth and gums. By teaching your child these habits early on, you can set them up for a lifetime of good oral health. 
Remember to make brushing and flossing fun by encouraging a healthy diet, drinking plenty of water, scheduling regular dental checkups, and avoiding harmful habits. By setting a good example and emphasizing the importance of oral health, you can help your child develop healthy habits that will benefit them for years to come.
Preventive Care: Your First Line of Defense Against Dental Problems
Prevention is the key to maintaining good oral health. That is why we emphasize the importance of regular dental check-ups and cleanings. We will examine your teeth and gums during your check-up for signs of decay, gum disease, or other dental problems. We will also take x-rays if necessary to get a closer look at the condition of your teeth and underlying bone structure.
Our dental hygienists are experts in providing professional dental cleanings to remove plaque and tartar buildup from your teeth. They will also polish your teeth to leave them feeling smooth and shiny. Regular dental cleanings are essential for maintaining healthy teeth and gums and preventing dental problems in the future.
Restorative Dentistry: Restoring Your Smile and Oral Health
Even with good oral hygiene practices, dental problems can still occur. That is where our restorative dental services come in. We offer many restorative treatments to repair damaged or decayed teeth and restore your smile and oral health. Some of our restorative dental services include:
Dental fillings:

We use tooth-colored fillings to repair cavities and restore the natural appearance of your teeth.

Dental crowns:

We use dental crowns to cover and protect damaged or weakened teeth. Our crowns are custom-made to fit your unique needs and preferences.

Root canal therapy:

We use root canal therapy to treat infected or damaged teeth and save them from extraction.

Dental implants:

We offer dental implant restorations to replace missing teeth and restore your smile's natural function and appearance.

Cosmetic Dentistry: Enhancing Your Smile and Self-Confidence
At 32 Pearls, we understand that having a beautiful smile can positively impact your self-confidence and overall well-being. That is why we offer a range of cosmetic dental services to enhance the appearance of your teeth and give you a smile that you can be proud of. Some of our cosmetic dental services include:
Teeth whitening:

We offer professional teeth whitening treatments to remove stains and discoloration from your teeth and give you a brighter, more youthful smile.

Porcelain veneers:

We use porcelain veneers to correct various cosmetic dental problems, such as chips, cracks, and gaps in your teeth.

Invisalign®:

We offer Invisalign® clear aligners to straighten your teeth and improve your bite without traditional braces.
Patient-focused Care: What 32 pearls does for Patients
At 32 Pearls, we are committed to providing patient-focused care that meets your unique needs and preferences. That is why we have designed our website, 32pearls.com, to be a comprehensive resource for all your dental needs.
You can learn more about our dental services and meet our team of dental professionals at any of our Seattle and Tacoma locations.