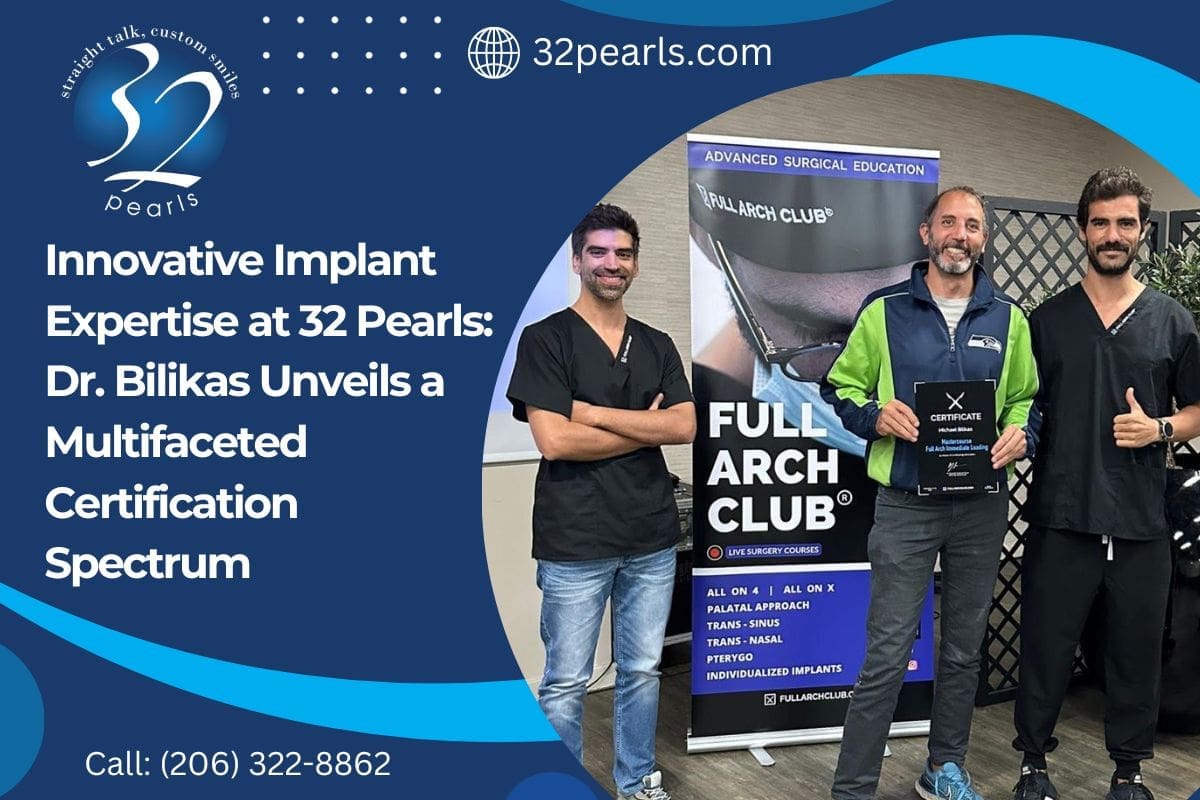 Seattle Implant Experts integrate All-in-4. All-on-X and more cutting-edge techniques, transforming dental implants into a streamlined All-In-A-Day procedure.
Dr. Bilikas, having recently completed the Master course Full Arch Immediate Loading, refined his surgical expertise and gained advanced techniques to enhance support for denture patients and individuals requiring full mouth restorations.
Why did Dr. Bilikas choose to embark on this journey? His commitment to providing the highest quality care to his patients is the answer. Attending Advanced Surgical Education Training at the renowned Full Arch Club, Dr. Bilikas had the opportunity to witness live surgeries, examine models, and attend informative lectures. By immersing himself in this cutting-edge training, he ensures that he remains current with the latest dental practices and can offer his patients the most advanced treatment options.
One of the highlights of Dr. Bilikas' training was the focus on Custom Subperiosteally implants, a groundbreaking technique poised to revolutionize the dental industry in the US. By incorporating individualized implants, Dr. Bilikas will tailor his treatment approach to each patient's unique needs, further enhancing their outcome and satisfaction.
The Master course Full Arch Immediate Loading covers a range of innovative concepts and techniques, including the All on 4 and All on X procedures, as well as the Palatal Approach, Trans-Sinus, Trans-Nasal, and Pterygo approaches. By mastering these surgical techniques, Dr. Bilikas provides more advanced immediate loading implants, giving his patients faster and more efficient treatment results.
Upon completing the Master course Full Arch Immediate Loading, Dr. Bilikas was awarded a certificate, recognizing his expertise in the field. This esteemed certification showcases his commitment to professional growth and dedication to delivering the highest standards of dental care to his patients.
The accompanying photo shows Dr. Bilikas proudly displaying his certificate alongside Dr. Bernardo and Pedro, the main surgeons who hosted the course. Dr. Bernardo, a prominent figure in the field, is the driving force behind the Full Arch Club and continues to spearhead advancements in oral implantology.
Dr. Bilikas' participation in the Mastercourse Full Arch Immediate Loading demonstrates his dedication to offering the best possible care to patients with dentures or those needing full mouth restorations. By staying at the forefront of the latest techniques and advancements in dental care, Dr. Bilikas ensures that his patients receive personalized, state-of-the-art treatment that can significantly improve their quality of life
What are the new dental implant techniques, and what do they do?
At 32 Pearls, these sought-after treatments, exclusive to certified Seattle dentists like Dr. Bilikas and his team, are readily available.
All On 4: The All on 4 technique is revolutionary for full-arch dental implants. It involves the placement of four dental implants in the jawbone, which serve as anchors for a prosthetic arch (denture) that replaces an entire arch of teeth. This procedure offers a fixed and stable solution, eliminating the need for traditional removable dentures.
All On X: The All on X technique extends the All on 4 concept. It refers to a similar procedure but allows more than four dental implants in the jawbone to support a full arch restoration. The X in All on X denotes the variable number of implants used, depending on the specific needs and condition of the patient.
Palatal Approach technique: The Palatal Approach technique is a surgical approach used to place dental implants in the upper jaw. It involves accessing the palatal (roof of the mouth) region to insert implants, providing stability and support to the prosthetic restoration.
Trans-Sinus Implants: Trans-Sinus Implants are designed for cases where the height or thickness of the jawbone is limited due to bone resorption or the presence of the sinus cavity. This technique involves placing implants that penetrate the sinus floor to maximize bone anchorage, allowing for successful implant placement even in compromised situations.
Trans-Nasal Implants: Trans-Nasal Implants are an innovative method to provide implant support in the upper jaw when traditional approaches are not feasible, such as in cases with severe bone loss or insufficient bone volume. This technique involves the placement of implants through the nasal cavity to secure the dental restoration.
Vomer Implants: Vomer Implants are designed for situations with extensive bone loss in the posterior maxillary region. They provide additional stability and support by anchoring implants to the vomer bone, which lies in the midline of the nasal cavity.
Pterygoid Implants: Pterygoid Implants are used when there is a lack of posterior bone support in the upper jaw. These implants are anchored in the pterygoid process, a bony structure in the skull, providing stability and allowing for the successful placement of full arch restorations.
New Custom Implants (Subperiosteal): Subperiosteal implants are custom-made implants that rest on top of the jawbone but are placed beneath the gum tissue. These implants are designed specifically for patients with severe jawbone atrophy or when traditional implant placements are impossible. Custom subperiosteal implants offer a unique and accurate fit, providing a stable foundation for full mouth restorations.
At 32 Pearls Dental Clinic, you can trust Dr. Bilikas and his team to provide exceptional full-arch implant solutions tailored to your unique needs. 
Schedule a consultation today to experience the comprehensive dental care that sets Dr. Bilikas and his practice apart. 
Are you a new patient? Meet our team.
New Patient Special!
 Only $99 for your first visit.
Dental Exam

Dental Scanning/ or X-Ray

Full Cleaning