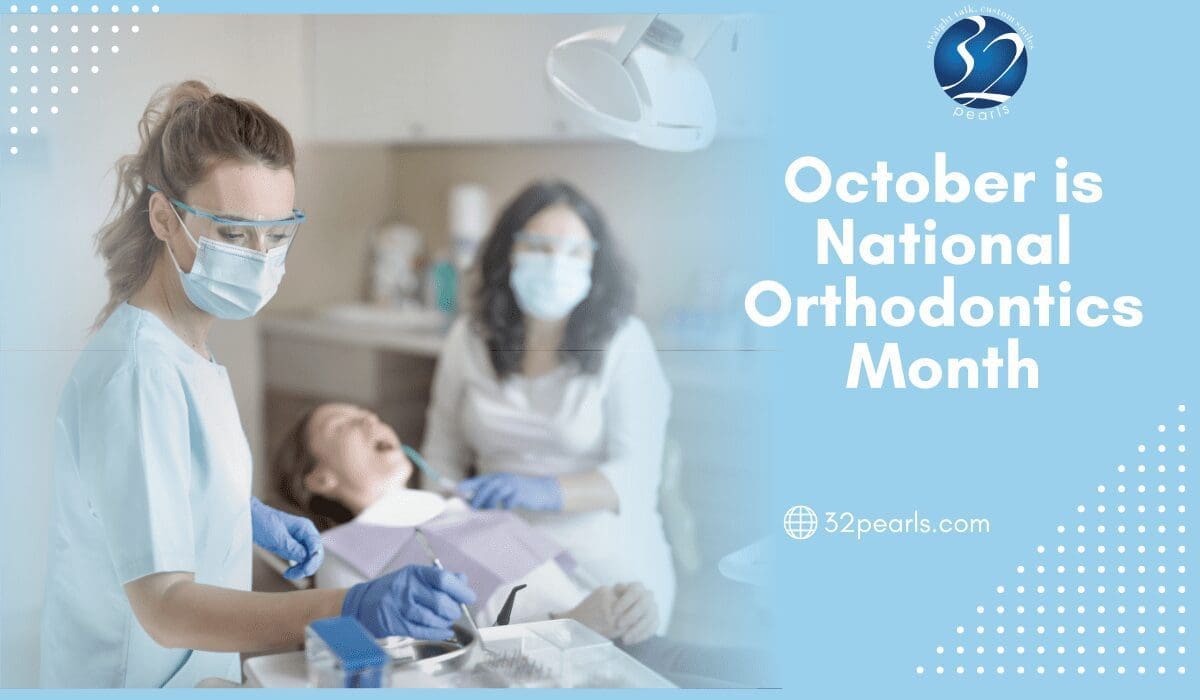 Celebrate with 32 Pearls and the #1 teeth straightening and teeth whitening system on the planet. - Seattle Invisalign®
Invisalign® is a clear alternative to traditional braces. The revolutionary system straightens teeth without the use of unsightly wires and brackets.
32 Pearls is proud to bring you the enhanced teeth straightening option over braces. We know that some people are uncomfortable with wires and metal spikes poking sensitive gums, so we offer an alternative method that is just as effective.
October is National Orthodontics Month! We've partnered with Invisalign® to offer more than 1/2 off the cost of your treatment plan.
Invisalign® is a removable and comfortable alternative to braces that uses clear aligners to straighten teeth.
Invisalign® is the #1 teeth straightener in the world due to the demand of adults and adolescents who want to have straight teeth but don't want braces.
Unlike traditional metal braces, Invisalign® treatment is virtually invisible because it's made with a series of custom-made clear aligners that are nearly invisible.
Invisalign® aligners can be removed when you eat or drink, so they don't interfere with your daily activities and can even be worn at night!
Invisalign® treatment has four steps:
Step 1: Initial consultation & diagnostic impression
We'll take impressions of your teeth (or you can send us digital photos) so we can design an initial treatment plan for your smile goals. If our dental team discovers any problems, such as crowding or gingival abnormality, we'll suggest corrections before proceeding further with treatment planning.
Our doctor will review your diagnosis records and create a customized series of aligners tailored specifically for you.
We'll send these custom-made trays back to our lab where they will begin production so all subsequent steps are completed quickly.
Once all of your aligners are complete, our doctor will schedule appointments until all 24 trays have been applied. Then we'll follow up until full correction is achieved.
You can remove the aligners for eating, brushing, flossing and special occasions. The aligners are virtually invisible, so nobody will know you are straightening your teeth unless you tell them!
You can wear the aligners during the day or at night. You may want to take them out when you eat meals or drink hot liquids because food and hot liquids can irritate your mouth while wearing retainers.
Invisalign® has become the #1 teeth straightener in the world due to the demand of adults and adolescents who want to have straight teeth and don't want traditional metal braces.
People pay their dentists $250-$500 just for teeth straightening consultations, but with Invisalig®n and 32 Pearls, your smile assessment is free! The truth is most people are good candidates for Invisalign®. If you are not, 32 Pearls will find a suitable option for you. Regardless of whether you are or not, your consultation and smile assessment are free!
Dr. Michael Bilikas is a Top 1% Diamond Invisalign® Provider Dentist for 2020,2021 and 2022! Your treatment is provided by an recognized Invisalign® provider that went above and beyond to treat patients just like you.
32 Pearls accepts several ways to pay for Invisalign®, including most insurances. See our list of accepted insurance providers. If you do not see your insurance, contact us, and we can confirm your specific plan and help you come up with a solution.
No Insurance? No Problem! Pay 0% interest on payments as low as $99 per month.
Now let's talk about Invisalign®
Invisalign® uses a series of clear aligners that are designed specifically for your smile, so no one will know you are straightening your teeth! These aligners are nearly invisible when worn and can be removed whenever necessary (for eating or brushing).
To get started with Invisalign®, contact us for a FREE Invisalign® consultation. At this visit we will examine your teeth and determine if you are a candidate for Invisalign® treatment.
Invisalign® works by using a series of virtually invisible teeth-straightening trays made of smooth plastic or a combination of plastic and metal. These trays are worn over your teeth in gradual steps so you can adjust to each change before moving on to the next one. Each tray has a different design intended to move your teeth closer toward its ideal position.
Get more than half off your treatment plan! Give us a call or request an appointment today!
Free whitening (up to $550 value)
Invisalign® kit and trays included with your initial payment for no additional cost!
Invisalign® aligners, which are made of a clear plastic material that fits over your teeth like a retainer would, but can be removed when eating or brushing your teeth. These are available in 8 different styles and colors!
Invisalign® retainers, which help keep the bones in place after they've been straightened out by the aligners. Each one is custom-made according to your specific needs to ensure that everything stays where it's supposed to be when you're not wearing them (i.e., overnight).
Whether you are just beginning to consider Invisalign® treatment or have been considering it for a while, you're in the right place! We are here to help guide you through the process and answer any questions that you may have. If Invisalign® is right for your situation, our staff will work with you to create an individualized treatment plan that meets your budget and timeline goals.
Contact us today to achieve your award-winning smile!