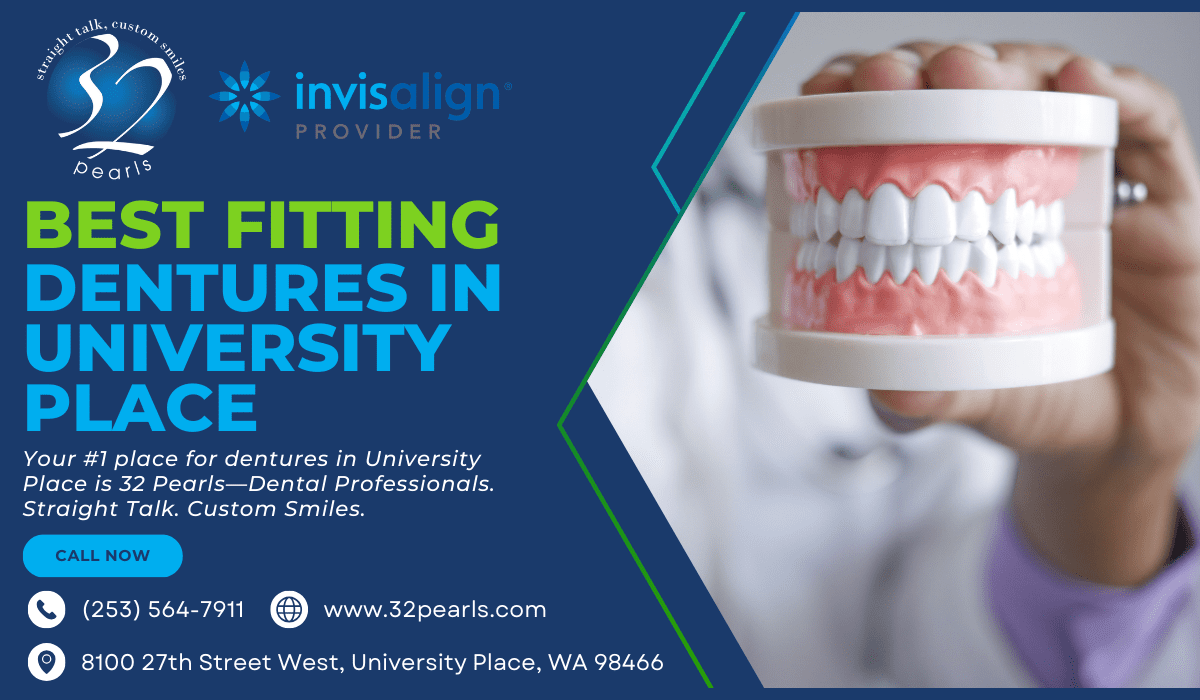 Your #1 place for dentures in University Place is 32 Pearls—Dental Professionals. Straight Talk. Custom Smiles.
Dentures are removable appliances that replace missing teeth due to decay, injury, or other reasons. Suppose you've lost all or most of your natural teeth, whether from gum disease, tooth decay, or injury. Replacing missing teeth will benefit your appearance and health. That's because dentures make eating and speaking easier than you could without teeth—things people often take for granted.
The team at 32 Pearls has created a comfortable environment where patients can feel at home when visiting the office. We are here to provide solutions that help our patients feel confident in their new smile and know they are getting the best care possible.
Losing your teeth is hard, but you can have them replaced—custom oral prosthetics are a perfect solution for replacing missing teeth. If you are searching for dentures in University Place, Fix your smile with custom dental implants from 32 Pearls.
Conventional or "immediate" dentures are the most common form of replacement teeth. They are immediately placed by the dentist following tooth extraction surgery. You do not have to be without teeth during the healing period and can eat normally from day one with conventional dentures.
Conventional or full dentures are made from a plastic-like material called acrylic. They are placed immediately after tooth extraction and are removable, so you can take them out to eat or brush your teeth. Conventional dentures can be adjusted to fit properly over time.
Conventional dentures offer some advantages over other types of removable partial denture devices. They provide a more stable fit for your jaw bones and teeth, making them less likely to shift with chewing or talking than other removable partial denture devices.
The main disadvantage is that conventional removable partial denture devices require more adjustments due to the shrinkage of bone and gums after a few months of wear.
Immediate dentures are made in advance and placed immediately after tooth removal surgery. They are usually made from acrylic or plastic and do not require healing time so that you can wear them immediately after your procedure.
They can be adjusted to fit your mouth after a few weeks and feel like natural teeth, but they may not have the same strength as full dentures.
Implant-Retained Dentures
Implant-retained dentures are also known as fixed or permanent dentures. Unlike conventional removable dentures, these teeth are fixed to the bone of your jaw and will not need to be removed. Implant-retained dentures can be cleaned and maintained like natural teeth, making them easier to look after than regular removable ones. They can also be used with crowns, bridges, or veneers – there is no limit on what treatment you can have!
Missing one or more natural teeth can cause problems chewing food properly and speaking clearly. These problems may lead to poor nutrition and loss of weight if eating habits aren't adjusted. When dentures are worn regularly by someone who has lost most or all of their natural teeth, they can help with eating and talking to others.
Dentures can be made in advance and immediately placed by the dentist following tooth removal surgery. This means you do not need to be without teeth until your new denture is ready for placement, which may take several weeks, depending on how complicated it is.
A partial denture is a removable appliance that provides support and stability to the remaining teeth, improving chewing ability as well as aesthetics. Partial dentures are made of plastic or metal and are fitted to your mouth. It's a great option for patients who only have missing teeth in one part of their mouth, allowing them to maintain some stability in their smile while still preserving their natural dentition.
Dentures are an important part of the health care system. They improve your appearance, speech, and general well-being by restoring function to your mouth. If you have lost teeth or are considering dentures for other reasons, discussing this option with our team to ensure that you get the best possible treatment options is important.
Do you have missing teeth and want to restore your smile? 32 Pearls serves University Place with affordable dentures that look great and fit comfortably without compromise. If you're ready to learn more about our services, call us today to schedule an appointment.