Pediatric Dentistry in Tacoma
Pediatric dentistry is oral healthcare for children from infancy to teenage years. The best way for your child to have a great experience at the dentist is to make sure they get preventative care at home. There are fun and exciting ways kids can take care of their teeth. At 32 Pearls, we relate to kids and know how to get them on the fast track to great dental hygiene. We do our best to make sure your child's visit is a good one.
At 32 Pearls, we see children as early as six months, and the first visit is FREE. We treat all phases of children's dentistry, including cleanings, fillings, fluoride treatments, sealants, and more. 
We make kids feel comfortable at the dentist's office. Taking your kids to the dentist doesn't have to be a battle. A dental visit is a day for learning and fun. We get kids interested in dental hygiene and inspire them to maintain good dental habits. We have all the tools and gear that interest kids in preventative care.
We treat various types of dental issues and treat special cases
Each child is different and every case needs its own individualized plan. We give your child the quality attention they deserve. We provide dental treatment for all ages and we have experience with all types of dental concerns.
Cavities – Even little kids and babies get cavities. It is important to know as soon as possible if your child has a cavity. We have to stop bacteria from growing into other areas of the mouth. We need to treat baby teeth carefully because they are the primary teeth that hold the space for adult teeth.
Braces – We use braces to bridge gaps,straighten teeth, and set the jaw straight. Only special cases require braces.
Invisalign First ® for kids.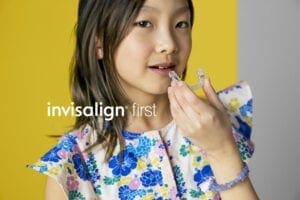 Naturally, we prefer Invisalign for its superior qualities and performance. Invisalign products are especially beneficial for little children, adolescents, and teens. See more about our Invisalign services. Invisalign First ® for kid
Each child gets an individualized care plan to help them manage their dental health. We use state-of-the-art technology combined with exceptional care, comprehensive examinations, and the most advanced techniques to ensure your child with the best oral care.
We investigate habits and behaviors that are potential risk factors for your child, such as thumb-sucking, pacifier habits, and how to avoid injuries to the mouth area. 
Preventative care is the best way to avoid cavities, extra trips to the dentist, and future oral care problems. We give you an organized, and routine maintenance schedule so good dental habits stay with your child for a lifetime. We give you the essential education and encouragement to keep your child on the road to great dental health.
Children, Anxiety, and the Dentist
We understand dental phobias and can answer any questions you have about your child's anxiety. Twenty percent of children have dental-related anxiety. We have solutions and techniques to help your child relax and have fun, even if hesitant. 
We use cognitive behavioral skills to help children relax through breathing exercises and thoughts about staying present.
Our tips help kids and adults relax when preparing for the dentist. Try these methods to help your child beforehand.
Breathing techniques are the best way to calm the body down and train your brain to think cognitively. Kids are often open to learning these techniques.

Please see our blog about how to

calm anxiety at the dentist's office

. If you are calm, your child will follow your lead.

Talk to your child before you go to the dentist. Tell them everything that will happen and how fun it will be.

Do not tell your child about whatever experience you had unless it was a good one.

Play a pretend "Going to the Dentist" game. Let your child be the dentist and practice on a stuffed animal. 

Watch videos or read books made for children about going to the dentist. There are multitudes of them. We've listed a few free videos on YouTube. These videos tell your child exactly what is going to happen. See more videos on our

Seattle Pediatric Dentistry

page.
Let your child listen to their favorite music on the way to the dentist. We've provided some pretty cool links to help.
Positive reinforcement is always okay! Do something fun after the dentist that your child wants to do! Accent their bravery and be their cheerleading squad.
See more in our blogs: Children's Oral Hygiene