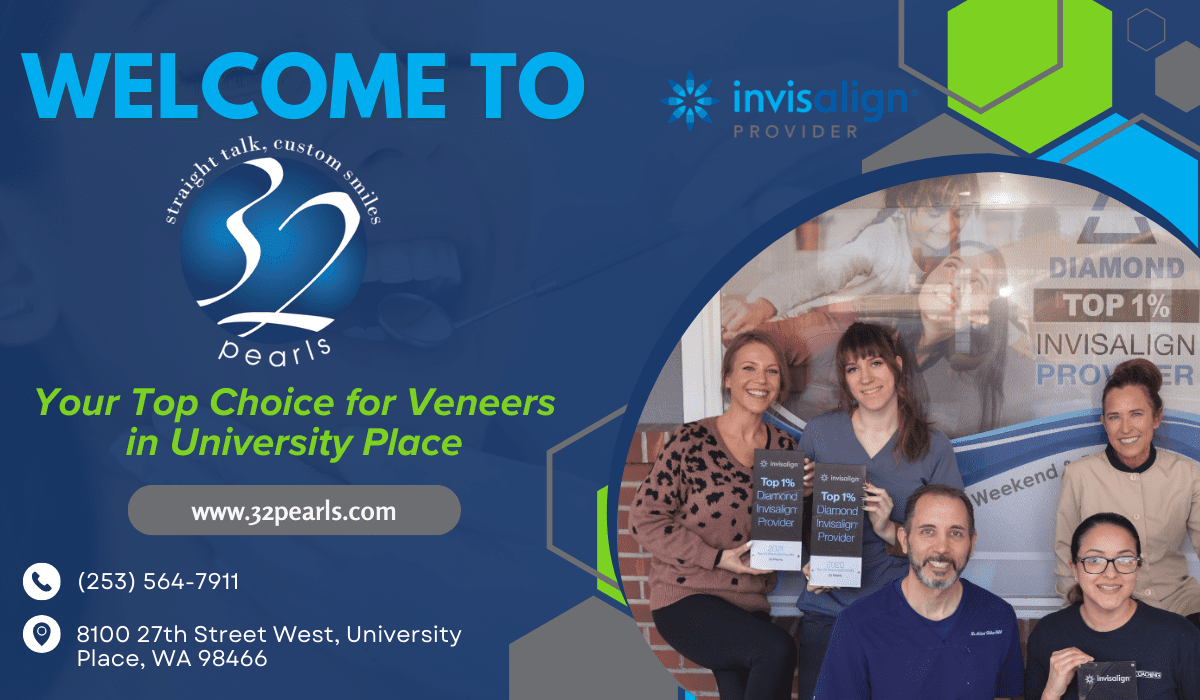 At 32 Pearls, we take immense pride in being the premier dental practice providing high-quality veneers in University Place and Tacoma. Our experienced dentist and dedicated staff tirelessly ensure you receive exceptional care and achieve your desired smile. Discover why countless patients choose 32 Pearls for their dental veneer journey.
Veneers are thin shells, typically made from porcelain, that are custom-made to cover the front surface of your teeth. TVeneers improve the appearance of your teeth by correcting issues such as:
Discoloration

Chipped or broken teeth

Worn down teeth

Misaligned or uneven teeth

Gaps between teeth

Benefits of Dental Veneers
Dental veneers offer an extensive range of advantages:
Aesthetically Pleasing: Veneers help to create a brighter, whiter, and more symmetrical smile.
Long-lasting: With proper care, veneers can last 10 to 15 years, providing a durable and beautiful smile.
Minimally Invasive: Veneers require minimal tooth enamel removal, making the process less invasive than other restorative techniques.
Stain Resistant: Porcelain veneers are highly resistant to stains, ensuring a consistently white and beautiful smile.
Custom Design: Each veneer is crafted to match your natural teeth' size, shape, and color.
The procedures at 32 Pearls begin with taking impressions and digital renderings and capturing multiple images of your teeth. These are then sent to a lab to create temporary veneers, although sometimes they can be made in the office, depending on the dentist's approach and your desired look. The goal is to ensure that the temporaries match the natural shade of your teeth.
We, the team at 32 Pearls, dedicate time and care to craft veneers that fit seamlessly into your mouth. We carefully observe how you use your teeth, smiling patterns, and expressions, as they reveal important insights about your oral dynamics. Factors such as the asymmetry of your smile and the curvature of your lips. The placement of veneers is an art form, and our passion for what we do ensures you will achieve the smile you deserve.
Cutting-edge technology delivers exceptional outcomes.
We utilize the latest 3D technology to provide you with an accurate preview of your post-procedure appearance. This technology allows you to try on temporary veneers and decide whether you are satisfied with the outcome.
We remove a small portion of the enamel from the tooth surface to bond the veneers to your teeth. We then use an adhesive bond to attach the veneers. Additionally, we create a wax or composite model to ensure that the veneers suit your specific needs. Adjustments may involve adding length to a tooth or reducing gaps between teeth.
During the procedure, you can receive a localized numbing anesthetic solution, and we also offer sedation options to alleviate nerves and anxiety. See more details about sedation dentistry.
You will wear temporary veneers for approximately 7-10 days while a lab crafts the permanent ones. This interim period allows you to test drive your new smile design and discuss any desired modifications with us at 32 Pearls. Your preferences are important to us, and we want to ensure you receive the smile you envisioned.
Your Personalized Smile Awaits
Your customized smile will be completed at your follow-up appointment and ready to be bonded permanently into your mouth. You will finally have the smile you've always dreamed of.
After the procedure, it is common for some patients to experience sensitivity to the bonding material. Approximately 50% of patients may encounter this sensitivity, but it is typically mild. As experts at 32 Pearls, we are well-versed in addressing and alleviating this issue.
As with any new addition in your life, an adjustment is required to become accustomed to the veneers. Initially, your bite may feel unfamiliar, and you may experience peculiar sensations. Any discomfort can typically be relieved with Ibuprofen. It is important to allow your gums time to adapt to the presence of the veneers. Nonetheless, you will overcome these minor challenges by maintaining a positive attitude and continuing to smile.
Feel free to contact us at 32 Pearls at any time if you have questions or concerns regarding any aspect of your procedure. Our team can make any necessary adjustments or modifications to your veneers, ensuring maximum comfort. 32 Pearls is #1 for Veneers in University Place/Tacoma.
Expertise and Experience: Our highly skilled dentists possess the knowledge and experience to ensure the best veneer treatment and results for your unique needs.
Latest Technology: We use cutting-edge tools to guarantee precise and efficient veneer preparation and placement.
Tailored Solutions: We develop customized treatment plans catering to your dental requirements and aesthetic goals.
Comfortable Environment: Our state-of-the-art facility is designed to provide a comfortable and relaxing atmosphere, making your visit as pleasant as possible.
Patient-Oriented Care: Your satisfaction is our top priority, and we strive to exceed your expectations by delivering exceptional care and service.
Feel free to explore our wide range of dental services