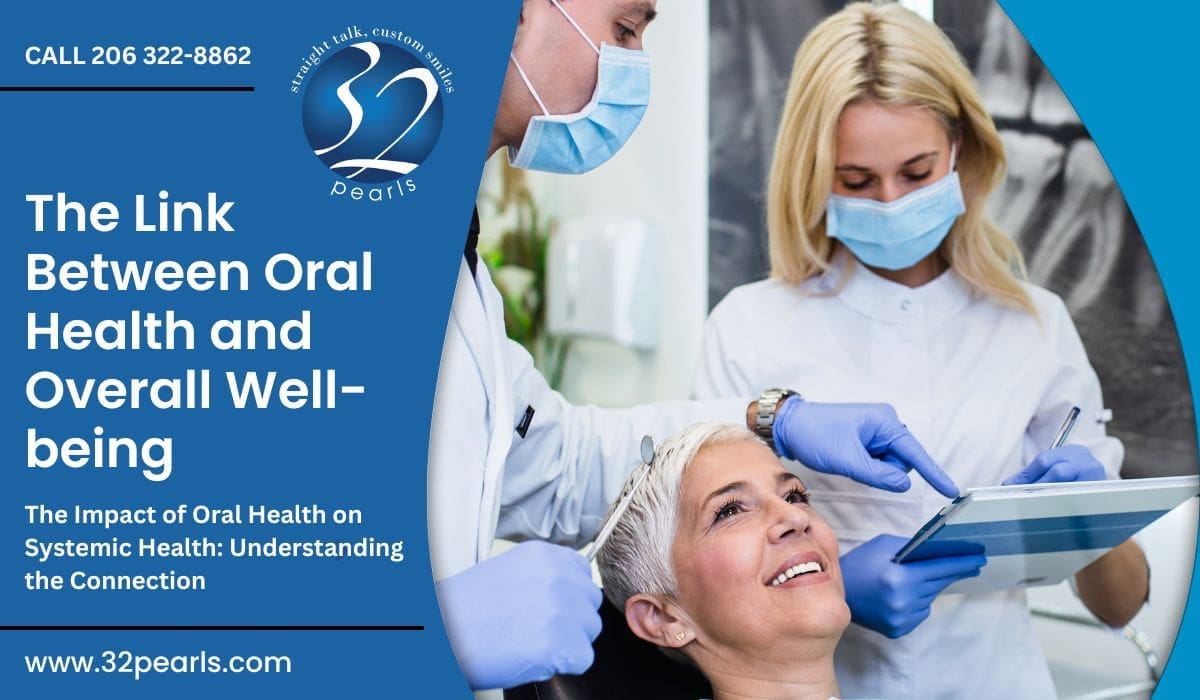 The Impact of Oral Health on Systemic Health: Understanding the Connection
The importance of oral health tends to be underestimated when evaluating our overall well-being. However, research shows a strong connection between the health of our mouth and our general health. 
Numerous research studies have highlighted the strong connection between oral health and well-being. One such study published in PubMed emphasizes that oral health is not only about disease prevention, such as dental caries or periodontal disease, but also encompasses craniofacial diseases, conditions related to speech, taste, and expression. Another study published by the CDC discusses the effects of oral health on the community, overall well-being, and the economy across different age groups, including children, adolescents, working-age adults, and older adults.
This blog will explore the link between oral health and overall well-being and discuss the importance of maintaining good oral hygiene for a healthy life.
A holistic concept encompasses physical fitness and mental and emotional well-being, constituting good health. While we often prioritize exercise, nutrition, and mental health, it is important not to overlook oral health. Surprisingly, our overall wellness is significantly influenced by the condition of our teeth and gums.
This blog post will explore the connection between oral health and overall well-being, highlighting how good oral health positively impacts our systemic health and quality of life.
Oral Health and Cardiovascular Health:

Are you aware of a substantial association between inadequate oral health and various cardiovascular conditions? Research suggests that the bacteria present in gum disease can enter the bloodstream, leading to inflammation and increasing the risk of heart disease, stroke, and even heart attacks. Taking care of our teeth and gums through regular brushing, flossing, and professional cleanings can contribute to a healthier heart.

Oral Health and Diabetes Management:

For individuals with diabetes, oral health is of utmost importance. Diabetes can increase the risk of gum disease; conversely, gum disease can make it more challenging to control blood sugar levels. By maintaining good oral hygiene and seeking professional dental care, individuals with diabetes can better manage their condition and minimize the risk of complications.

Oral Health and Respiratory Health:

The health of our mouth and respiratory system are closely interconnected. Poor oral health can lead to the accumulation of harmful bacteria in the mouth and throat, increasing the risk of respiratory infections, pneumonia and even exacerbating existing lung conditions such as chronic obstructive pulmonary disease (COPD). Keeping our teeth and gums healthy can help safeguard our respiratory health.

Oral Health and Mental Well-being:

Oral health can also impact our mental and emotional well-being. Dental issues like tooth loss, gum disease, or chronic bad breath can significantly impact our self-esteem, confidence, and overall quality of life. Maintaining a healthy smile contributes to better physical health and boosts self-confidence, leading to improved mental well-being.

The Importance of Regular Dental Check-ups:

Regular dental check-ups are crucial in maintaining good oral health and overall well-being. Dentists can detect early signs of dental problems, provide professional cleanings, and offer guidance on oral hygiene practices. By prioritizing regular dental visits, we can stay proactive in our oral health and prevent potential issues from escalating.
Taking care of our oral health is more than just having a beautiful smile; it is a fundamental component of our overall well-being. The connection between oral health and systemic health cannot be ignored. 
By practicing good oral hygiene, scheduling regular dental visits, and being mindful of our oral health's impact on our overall wellness, we can enjoy a healthier and more fulfilling life. Remember that a healthy smile goes beyond aesthetics—a gateway to a happier and healthier self.
Why should you choose 32 Pearls as your top choice for family dentistry in Tacoma and Seattle?
Selecting a reliable and experienced family dentist is essential for maintaining optimal oral health for yourself and your loved ones. Regarding exceptional dental care in the Tacoma and Seattle areas, 32 Pearls are the top choice. With a commitment to excellence, advanced treatments, and a range of convenient financial options, 32 Pearls offer 
comprehensive family dentistry services that prioritize your oral health and overall well-being.
Expertise and Experience:

At 32 Pearls, our team of highly skilled and experienced dentists deeply understands family dentistry. With years of training and a passion for delivering exceptional care, our team provides personalized treatment plans tailored to meet the unique needs of patients of all ages. From routine check-ups and cleanings to advanced procedures, we ensure that every member of your family receives the highest level of dental care.

Comprehensive Family Dentistry Services:

At 32 Pearls, we offer a comprehensive range of family dentistry services to address all your oral health needs. We have you covered from preventive care, such as dental exams and cleanings, to restorative treatments, like fillings and crowns. We also provide cosmetic dentistry services to enhance your smile's appearance, including teeth whitening and veneers. No matter the dental concern, our team at 32 Pearls has the expertise to deliver outstanding results.

Invisalign®:

Achieve a Beautiful Smile with Convenience: We understand the desire for a straight and confident smile, so we offer Invisalign treatment at 32 Pearls. With Invisalign®, you can achieve the smile you've always wanted discreetly and comfortably. And the best part? For a limited time, we offer a special promotion of 50% off Invisalign and 0% interest on low monthly payments of just $99. It's a fantastic opportunity to transform your smile without breaking the bank.

State-of-the-Art Technology:

To ensure that our patients receive the highest standard of care, we utilize state-of-the-art dental technology at 32 Pearls. Our modern facilities are equipped with advanced tools and equipment, enabling us to provide accurate diagnoses, precise treatments, and improved patient comfort. By staying at the forefront of dental innovations, we can deliver efficient, effective, and comfortable dental care for you and your family.

Convenient Financial Options:

We believe that exceptional dental care should be accessible to everyone. That's why we offer flexible financial options at 32 Pearls. Alongside our Invisalign® promotion, we have various payment plans and insurance options available to suit your budget and ensure you can receive the care you need without added financial stress. Our team is committed to assisting you in discovering the optimal financial solution to meet your family's dental requirements.
When choosing a family dentist in the Tacoma and Seattle areas, 32 Pearls should be your top choice. With a team of experienced dentists, a comprehensive range of services, including Invisalign at a discounted rate, state-of-the-art technology, and flexible financial options, 32 Pearls is committed to delivering exceptional care to you and your loved ones
"This was my third visit to the Seattle 32 Pearls office. Today I received my second three-month set of Invisalign. I was in and out within 15 minutes. I love that I don't need to visit the office very often and it's very efficient when I do! The staff is great. I couldn't be more pleased." ~ A. Mang
Please look at our complete listing of dental services.