Introducing the all new My Invisalign® mobile app! Now it's even easier to start your journey to a new smile.
You've been thinking about straightening your teeth for a while. You've probably heard about the great advantages of using Invisalign from friends, family and social media. If you are considering using Invisalign to transform your life and smile, the Invisalign® mobile app is for you.
The My Invisalign® mobile app is great for those still thinking about getting Invisalign and for those who are current Invisalign patients. All the information you need about Invisalign® is all in one convenient place. Whether you want to know how to pay for Invisalign, see what you'll look like after treatment, or want to schedule an appointment, the app takes care of that!
My Invisalign® mobile app
for those who are thinking about getting Invisalign.
Get everything you need to know right on your phone or smart device. The
My Invisalign® mobile app
gives you:
The ability to visualize your smile with Invisalign SmileView Technology

Check your insurance coverage for treatment

Request a consultation with our doctor.

Aligner change reminders

Aligner wear timers

Progress Photo Gallery
These great features will enhance your Invisalign journey, remind you of appointments, time the daily use of aligners, and keep you on track.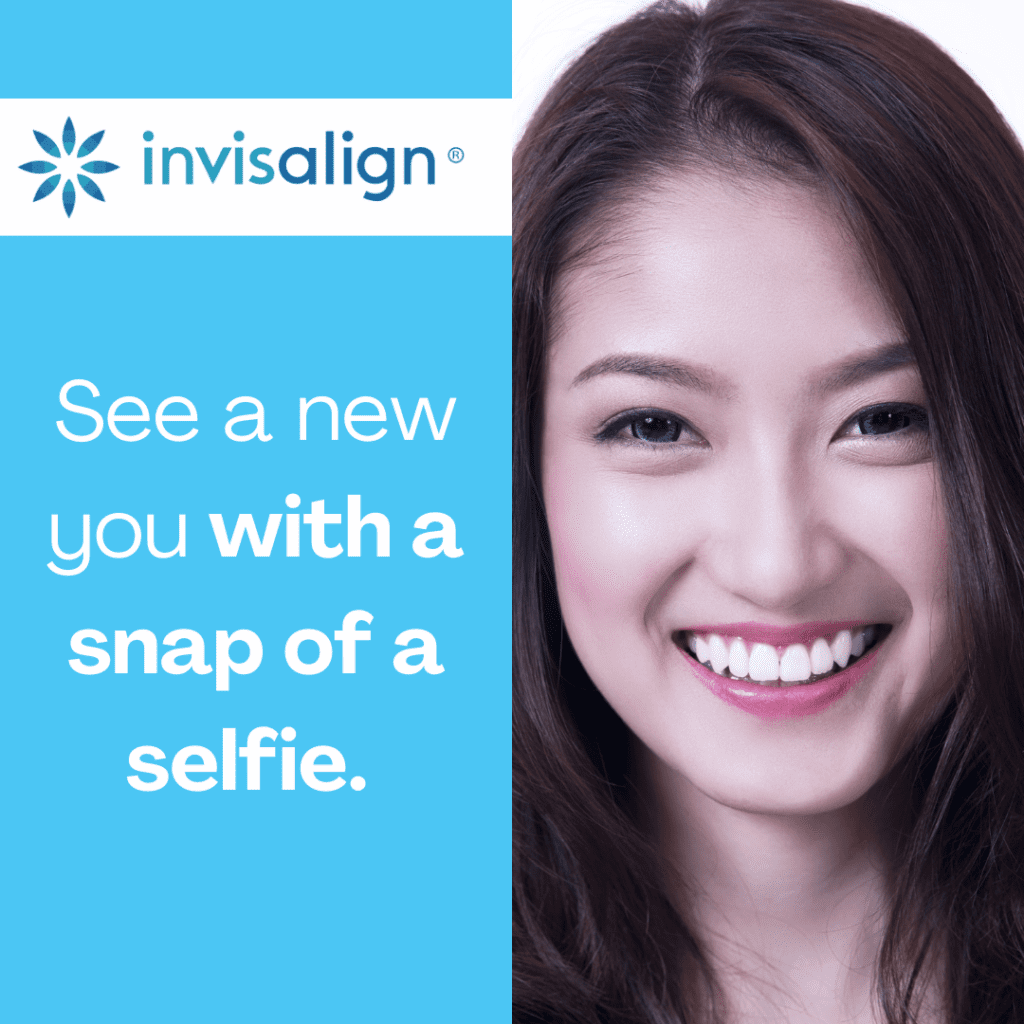 If you're looking for information about Invisalign,
My Invisalign® mobile app
provides everything you need.
You may have so many questions about how Invisalign works. That's okay. We understand that it's a big deal to finally get your teeth straightened, whitened and have the look you've always wanted. The My Invisalign mobile App® was made just for you! The app answers questions and provides tons of information to get you started!
What is Invisalign? How does it work? How much does Invisalign cost and how long does treatment take? We answer these questions and more in our easy-to-use application to inform consumers about Invisalign treatment and how to enhance their smile journey.
Find out more about Invisalign on our website under Invisalign Services in Seattle and Tacoma.
Invisalign SmileView Technology
A free, interactive smile-enhancing tool that shows consumers what their smile could look like after Invisalign treatment. Just download the My Invisalign App (below) and see your new smile in a matter of seconds.
 Pay 0% interest on payments as low as $99 per month when you get Invisalign treatment at 32 Pearls.
Apply for Monthly Financing and Payment Options from LendingPoint. These flexible financing plans can be used at any practice that accepts Mastercard®.
Once you contact 32 Pearls, you will make an appointment for your free smile assessment and consultation in the office closest to your location. (Tacoma or Seattle)
No more guessing at what your insurance will cover; the app helps you instantly check your insurance plan. No Insurance? No Problem. 32 Pearls offers payment plans that are easy to pay and are affordable.
Looking to transform your smile with the most advanced clear aligner in the world? Already have Invisalign® and need support? The My Invisalign® app is a one-stop-shop that helps deliver healthy, beautiful smiles without interrupting your life.
My Invisalign® mobile app for those who have started their Invisalign journey.
Now that you've started wearing Invisalign, 32 Pearls is right there for you when you need us. With the My Invisalign® mobile app, you have access to everything you need.
When you're already an Invisalign patient, the following resources provided by the app will make your journey even easier.
You can register now and convert to patient status after starting treatment, or register after you begin treatment. If you have any questions, please call 32 Pearls at (206) 322-8862. You can also contact us through our website. 
32 Pearls is offering Invisalign with 0% interest on payments as low as $99 per month. We are offering Invisalign at over 50% off the regular price. That means you get over $1000 off Invisalign when you register with us.
When it's time for your new aligners, you just snap a photo of your progress and send it to us. We'll let you know how you are doing and give you any needed information. Virtual Telehealth appointments are also available upon request.
A custom aligner tracker to help you stay compliant with your doctor's recommended
wear time.
You can set your aligner stages and the days that you wear them.  Receive change notifications to remind you when and how long to wear your aligners. You'll never forget so your smile straightens better and faster.
A personal calendar to set reminders and notifications to help you stay on track with your Invisalign treatment.
A selfie photo gallery for you to save photos to the Smile Gallery and view how you progress towards your new smile.
Cleaning Tips & Maintenance

Use and care tips to guide you on ways to properly maintain your clear aligners.
$50 gift card bonus for you!
Refer a friend and you both get a $50 gift card when they start treatment. You can refer your friend on the My Invisalign® App. See our Invisalign services pages for more information about Invisalign.
I
nvisalign® is a technology-based system designed to straighten your teeth without the use of metal wires and brackets. Your aligner trays are custom made, so they fit your mouth perfectly. 
You will move through each new tray during each two-week period, until your teeth are aligned. The My Invisalign® mobile app lets you communicate with us if you have any problems or concerns that might affect treatment and also gives us a chance to make adjustments for better results.
32 Pearls is the #1 rated dentist and Top 1% Diamond Invisalign provider for Invisalign treatment in Seattle and Tacoma.
Your Invisalign treatment is a successful treatment at 32 Pearls. At 32 Pearls, you get personalized care from an Invisalign trained dental team. Come in and meet us. We will guide you on your teeth straightening journey.
Our Invisalign package is different from other area dentists or online mail order aligners because we treat our patients as individuals and not one size fits all. The team at 32 Pearls understands that all mouths are different and need specialized treatment. If you have a special case and need a little bit more care, we are here for you and will know what to do to make sure that your teeth straightening process goes as smoothly as possible.  
Our Invisalign package includes everything you need:
Access to your documents, reports or records

Aligners and retainers

FREE teeth whitening & bleaching

5-year follow up (If at any time within five years of treatment you have a relapse, we will fix it free)

You can use your insurance and HSA benefits for this, making it even MORE affordable

Visit our office for a FREE Invisalign consultation to see how we can give you a smile that you deserve

And more… (

My Invisalign mobile app

,

Virtual treatment

,

accessories

)

Free smile assessment

 Pay 0% interest on payments as low as $99 per month when you get Invisalign treatment at 32 Pearls.
Now is the time to get your teeth straightened! Contact us today. 
(206) 322-8862