Halloween treats are fine once a year when eaten in moderation. Globs and Globs of Halloween candy will get you in the dentist's chair quick. Halloween week is one of the busiest times for dentists due to Halloween related- dental injuries. Usually, a tooth is broken or damaged from biting down on hard candies. The rest of the problems come from a lack of common-sense and painful tooth decay. There are many tooth-friendly Halloween treat options for your snacking. We have shared some favorite tips and ideas for a healthier Halloween.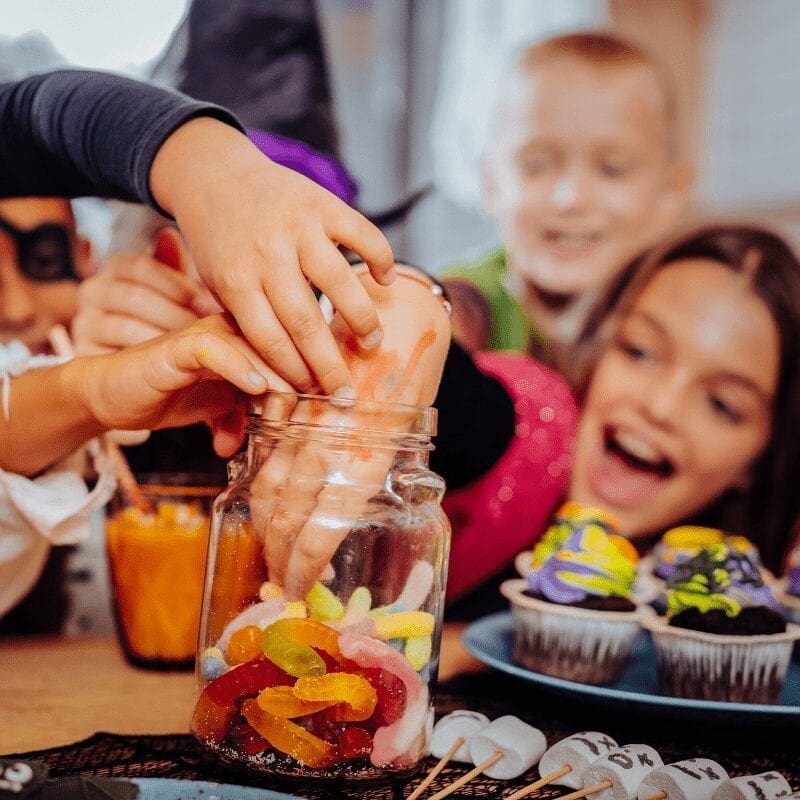 Pumpkin– is perfect for you and contains several vitamins listed that assist in excellent health, including your teeth. Pumpkin has Vitamin A- aids in saliva production. Vitamin C- regenerates a healthy immune system. Pumpkin also contains magnesium and calcium, which work together for physical regrowth. Zinc aids in healing damaged tissue in wounded cells. Pumpkin seeds contain iron, which provides strength in teeth.
Chewing sugar-free gum is entirely acceptable and makes a tasty treat for tick-or-treaters. 
Drink plenty of water– water flushes your mouth all day if you drink enough. If you do have candy, washing it away with water will release sugar particles that get stuck in your teeth. A slice of lemon in your water adds cleansing to your mouth and gums.
Use tooth-picks, floss, and try to clean your teeth after eating candy. The less sugar sits on your teeth, the better chances you have at saving your teeth.
Avoid very hard and chewy candies. Often teeth are sensitive, and hard candies can break teeth. Chewy candies get stuck in the grooves of teeth creating difficulty in loosening the candy. Even if you brush and floss regularly, candy can stick in places you can't always reach. These sticky- gooey candies often cause tooth decay. All sugar-free hard candy is a better choice.
Avoid sweet and sour candies or wait thirty minutes before brushing. Sour candies have an acid build-up that breaks down enamel. If you brush too soon, you will be enhancing the acidic effect on your teeth and in your mouth.
Chocolate– is the most practical sweet for your teeth because of the oil in chocolate provides a slick coat over your teeth. It is easier to rinse away than other hard candy. Dark chocolate is also preferred because it is an anti-oxidant, good for your heart and lowers blood pressure.
Eat candy shortly after eating a meal. After you eat, saliva is produced in your mouth and will be more so after a meal.
Teaching your kids to eat vegetables can be fun. Kids love eating food that resembles Halloween characters. See recipes on decorating foods to look like spooky fun treats such as apple monsters from Two Healthy Kitchens. Apple Monsters are apple slices stuck together with peanut butter to form a mouth. Almonds can be added to make teeth with bananas for eyes and grape for the tongue.
View this video on Halloween treats gone wrong by Crest.
Good job if you use Invisalign because Invisalign is a better option than wearing braces. Now, you can remove the trays while you indulge in any candy that you choose for one day. You do not have to pry chocolate, gum, or candy out of your metal braces. All you have to do is brush your teeth, use your floss, rinse and enjoy your Halloween.
32 Pearls have a lower cost for Invisalign in Seattle and Tacoma.  
Invisalign is less than 50% off, which is only $3200 for you. NO worries, No brackets, and NO doubts when you come in for a consultation for Invisalign. Retainers, records, and aligners are all included.
5-year follow up (If at any time within five years of treatment you have a relapse, we will fix it free)
FREE Bleaching – Invisalign trays have a unique scalloped design that keeps bleach away from the gums, preventing irritation and burns
You can use your insurance and HSA benefits for this, making it even MORE affordable
Visit our office for a FREE Invisalign consultation to see how we can give you a smile that you deserve
EXTENDED DEADLINE: By popular demand, we have extended the deadline for this offer. Make sure you are seen for a consultation by the end of October, and you must start treatment before November 30th. Now is the time to get your teeth straightened! Contact us today.