Plus 50% off Invisalign when you call 32 Pearls by July 31, 2019- See Below.
EXTENDED DEADLINE! By popular demand, we have extended the deadline for this offer to August 31, 2019.
Make sure you are seen for a consult by the end of August 2019 and you must start treatment before September 30, 2019.
If you are moving forward with your smile and considering Invisalign treatment, there are some famous patients that you are will share alignment with.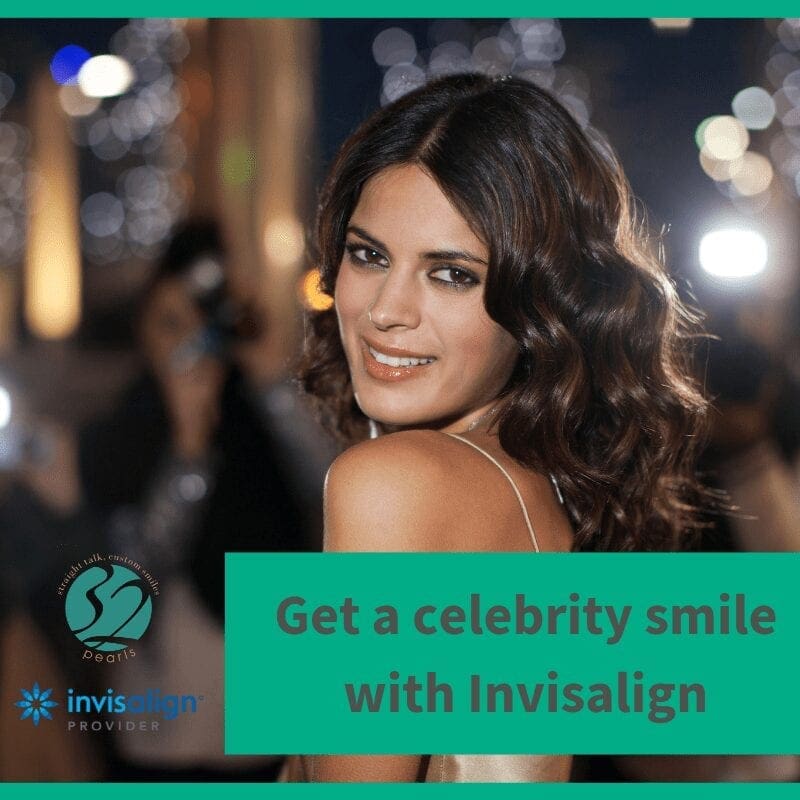 At 32 Pearls, the patient is considered the most significant celebrity, and you are treated like one every time you walk in the door and sit in the chair. You will be treated like royalty because you are in the hands of people that sincerely care about you, your oral health, and your entire well-being.
If you are ready to take a leap towards self-improvement and are wanting Invisalign to help you do so, just imagine how everyone will notice you and wonder how you got that perfect, gleaming, smile.
Kate Middleton revealed using Invisalign
Future Queen and Royal Princess Kate Middleton's use of aligners (like Invisalign) provided her with an angelic smile that ensues royalty and captures the eyes of millions of people. Kate was dealing with a shifted tooth, which began to put pressure on her other teeth, creating movement. After corrective surgery and the use of Invisalign, her smile is better than ever. Now you and Kate will be sharing the same beauty secret.
But that's not all.
Meghan Markle's smile is going to be #1 requested look for 2019!
A recent trending survey has shown that dentistry patients are asking if their teeth can look like Meghan Markle's, The Duchess of Sussex's beautiful smile. The answer is -YES. The truth is that Meghan used an alignment system similar to Invisalign that made the apparent gap in the teeth now a remarkable Markle smile.
Teen Favorite, Billie Eilish, and Goth, Pop Princess wore Invisalign and sang about it.
Billie has been noted to make a point of supporting her fellow teenagers with positive and empowering ways to strengthen self-confidence. Although not a secret, Billie Eilish made Invisalign part of her video Bad Guy. Her video to support her album, "When we fall asleep, Where do we go?" includes a clip of her saying "I have taken out my Invisalign, and here is my album."
Billie Eilish has over 16 million Instagram followers. Your kids definitely know who she is and will want to follow in her steps. If you want them to get their teeth straightened, perhaps a comrade teenager can help.
Justin Bieber proudly shared his Invisaligns on Youtube
Getting your teenager to the dentist could be a task no parent wants to deal with. To help aid in teenagers that need teeth alignment, Justin Beiber shared his Invisaligns on Youtube in 2011 to show everybody what they were like. When demonstrating removal of his bottom tray, Justin notes. "You guys can't even see it."
Khloe Kardashian is open up about self-improvement and an Invisalign patient.
Although you may feel inundated by celebrities and their problems, Khloe Kardashian has been open and honest about feeling better with the aid of self-improvement. She did what she could to lose weight, which boosted her confidence to improve her smile with Invisalign treatment. Kardashian chronicled her journey with self-esteem on Twitter and used this quote to help others do the same. "Self-love is dynamic and runs deep. When we act in ways that expand our self-love, we begin to expand our minds."
A Guarantee from 32 Pearls
At 32 Pearls, we are aware that not everything is not about beauty or looking like a celebrity. We are aware that we have the tools to help you make the right decision about your oral health care. If we are excited about a product like Invisalign, it is because we know what a patient being is like.
We want you to have the very best experience with your dental treatment, and we are continually growing in ways to make it any easier, non-evasive, yet effective way to help you feel your best.
Only at 32 Pearls have we removed 50% off the price so that everybody can afford to improve their dental needs.
All-Inclusive For You.
Retainers, and aligners all included
5- year follow up
Free Bleaching
At 32 Pearls, we offer a wide range of family dental services including preventative, fillings, crowns, braces, root canals, cosmetics, and much, much, more! Whether you need a routine cleaning, a simple filling, or more comprehensive dentistry, we make every effort to ensure that your treatment is complete, comfortable, and affordable.
32 Pearls welcome new patients, and we take pride in the fact that most new patients are referred by our existing patients. We thank you for your continued expressions of confidence. For more information about our practice, or answers to frequently asked questions, you may also visit us at 32pearls.com.
For your convenience, 32 Pearls has two offices one in Seattle on Lake Washington Blvd at the Leschi Marina in front of Daniel's Broiler and the other, in University Place on the corner of 27th St W and Sunset. For contact information, directions and much more visit us at 32pearls.com.