Invisalign® treatment delivers predictable results based on years of research and over ten million+ cases.
The most important thing to a parent is that their child gets the best chances to succeed in life. You spend hours teaching them confidence, learning skills, emotional balance, and how to take on life's toughest challenges. You make sure they are confident to conquer the ups and downs of life. You are there for them through every struggle and cheering them on at every opportunity.
For your teen to triumph mentally and emotionally, you have to make sure they have strong physical wellness, including oral care. Teeth straightening for your child is a key component for a thriving, confident life. When you give your teen confidence, you give them the structure to carry out their potential.
Invisalign makes the teeth straightening process easy, affordable, and comfortable for both you and your teen. You spend much more of your money on giving them things they want or enjoy for pleasure. Give them what they need and with a gift that will pay off forever.
Invisalign illuminates your teen's smile, which is what you want to see most of the time.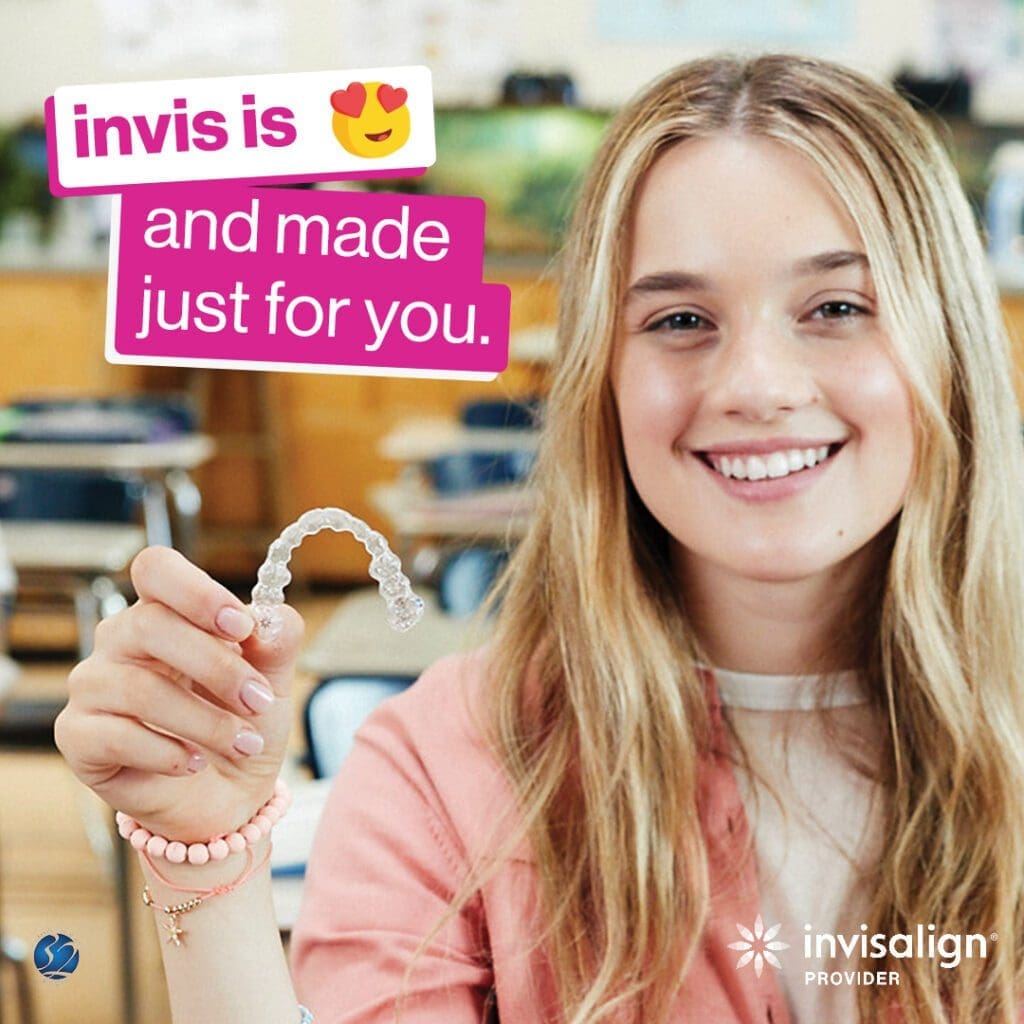 Why choose Invisalign? Evidence from studies proves its effectiveness.
The reason you want Invisalign to straighten your teen's teeth is that the results are predictable. Years of Invisalign's research, including 10 million cases, prove it is the most advanced teeth straightening treatment of all time. Professional dentists choose Invisalign instead of lesser-known brands that market and sell products without specific research. See evidence from actual studies below from Invisalign and Align Technologies. Studies report Invisalign satisfaction with both teens and adults.
Align Technologies developed and invented Invisalign to "reimagine and reinvent the way orthodontic and restorative treatment is presented and delivered."
US National Library of Medicine stated. "…substantial consistency among studies that the Invisalign® system is a viable alternative to conventional orthodontic therapy in the correction of mild to moderate malocclusions in non-growing patients that do not require extraction. Moreover, Invisalign® aligners can predictably level, tip, and de-rotate teeth."
Science Direct reports patient satisfaction and quality of life changes after Invisalign treatment. "The most significant improvements were seen in the appearance and eating and chewing categories, with patients responding positively to more than 70%."
Overall, patients were satisfied with the treatment.

In regards to the quality of life, the patient's chewing and appearance improved significantly.

Although most satisfaction stemmed from the doctor, patient relationship, the majority of patients were overall satisfied with Invisalign results.

Both qualities of life and high levels of patient satisfaction were reported.
Invisalign teen success stories are popping up on social media
This evidence comes right from the source. Teens aren't afraid to tell you what they think about stuff, especially in front of a camera! Watch teens achieve their dreams and increase confidence with Invisalign®.
Teens know what they are getting with Invisalign®
Invis is so many things for so many people. Trusted by millions, Invis is a favorite among families. Invisalign provides dependable results for a fraction of the cost. Teens have lives, and those lives shouldn't be awkward just because they take their healthcare seriously.
Invisalign lets a teenager be a teenager. Whether eating popcorn, playing sports, singing, or studying, Invisalign fits comfortably. Invisalign gives your teen the control of when to take them out and when to leave them in. The SmartTrack material of Invis makes aligners easy to remove.
There is no guessing about Invisalign®
Advanced technology makes it possible to see results ahead of time and as they happen. Patient's smiles are mapped with the iTero Element scanner. The iTero scanner has replaced the need for past-like molds and gooey casts. It is the most advanced scanning for teeth straightening treatment that takes 6,000 images per second. It is accurate, precise, and easy to use for the patient and dentist.
Invisalign® SmileView™ technology simulates the outcome of how your child will look after treatment. With one look into their future, it's no doubt why teens ask for Invisalign.
SmartForce Attachments are small tooth-colored shapes that attach to teeth throughout Invisalign treatment. They provide an easier way to remove aligners.
32 Pearls is a Top 1% Diamond Invisalign Provider
32 Pearls has the Invisalign experience that you want for your teen. The staff has received training in all facets of Invisalign and has a proven track record of patient success.
Dr. Bilikas treats special malocclusion cases and has the recommended solutions and treatments for teeth straightening concerns. He is an Invisalign recommended expert and knows how to adjust and monitor your teen's Invisalign success. 
The staff at 32 Pearls treats patients like family members. From the time you walk in, you are treated with the care and respect you deserve. The staff discusses all procedures with you and your family. Please ask any questions you have.
Invisalign is 50% off. Our package is all-inclusive.
Our price is $3,200, which most insurances cover. The regular price is $6,600.
Retainers, Records, and Aligners included

5-year follow up

(If at any time within five years of treatment you have a relapse, we will fix it

free

)

FREE Bleaching

– Invisalign trays have a unique scalloped design that keeps bleach away from the gums, preventing irritation and burns

You can use your insurance and HSA benefits for this, making it even MORE affordable

Visit our office for a

FREE Invisalign consultation

to see how we can give you a smile that you deserve

Add $200 off Invisalign when you get Covid-19 vaccinations at our office.
Contact 32 Pearls to get started!