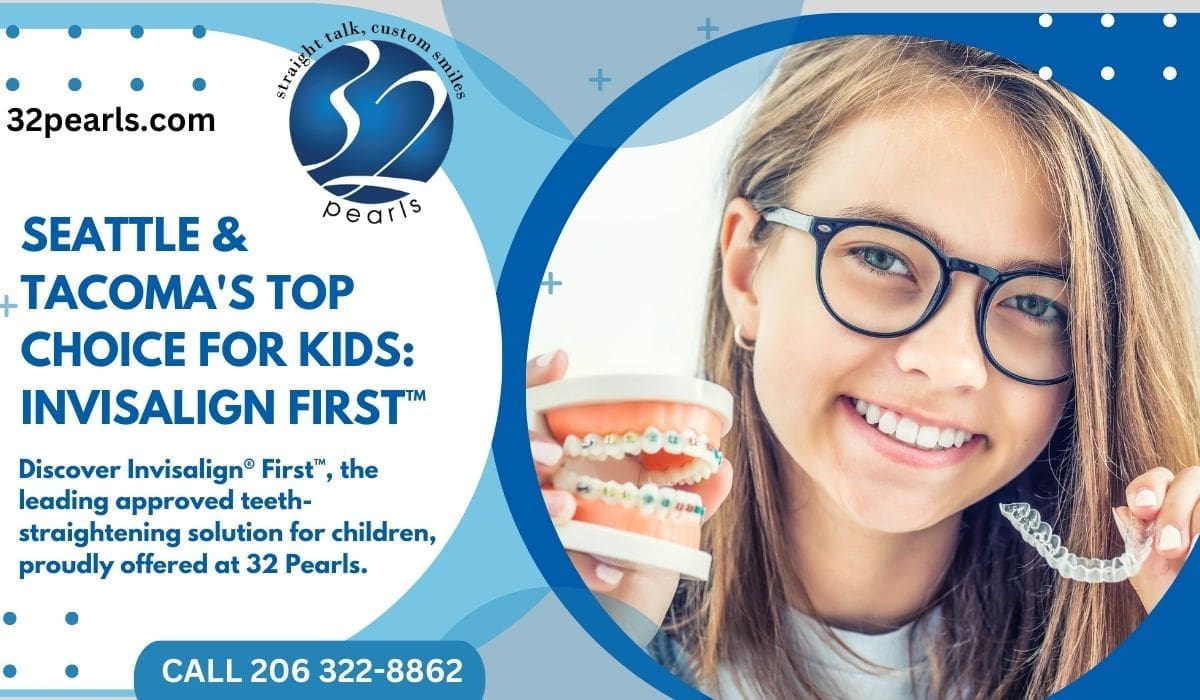 Discover Invisalign® First™, the leading approved teeth-straightening solution for children, proudly offered at 32 Pearls.
You've heard all about the positive results of the Invisalign® teeth straightening system for adults and teens. Now, we're introducing Invisalign First™ for your children. For the best treatment for kids in Seattle and Tacoma, 32 Pearls are the number one choice for Invisalign First™.
The most important thing in the world for a parent is ensuring their children are happy and healthy. You require a broad range of knowledge to raise your kids, including psychology, biology, fitness, nutrition, and everything in between. You are a teacher, a doctor, a nurse, a nutritionist, and a maid. You still have questions even with all of the reading, research, and online parenting material. Being a parent is life's toughest, most challenging aspect, and sometimes you just want a little help.
You may notice that your child's teeth have grown and require straightening. You might wonder where to go, what options are accessible, and the expenses involved. Additionally, it's essential to consider the potential impact on your child's health if you choose not to address teeth alignment issues.
As your local dental experts in Seattle and Tacoma, the 32 Pearls team is here to provide the information you need. We'll explain why Invisalign First™ is the top choice for children's teeth straightening and how to determine if your child is an ideal candidate for this effective treatment.
What is Invisalign First?™
Invisalign First™ is a clear aligner treatment designed to correct teeth straightening issues in growing children, ranging from simple to complex cases, including crowding, spacing, and narrow dental arches. It is specifically developed for primary or deciduous teeth and aims to provide a positive experience so children's smiles grow with them. Invisalign First™ aligners are removable, making it easier for children to maintain proper oral hygiene through brushing and flossing.
Malocclusion of the teeth is when the teeth do not grow straight and upwards. Teeth grow in all different directions based on several factors. Several problems will arise later in life if a bite is not straight. Malocclusions include crossbites, underbites, overbites, open bites, or large gaps between bites. If teeth are rotating or turning, a more significant problem presents itself in the jaw and needs alignment. The point is to avoid more serious implications for future dental health, such as headaches, jaw pain, TMJ, teeth pain, neck pain, and digestive issues.
Selecting the Right Dentist: Experience Matters
It's essential to know that not all dentists have the necessary experience, and only Invisalign-trained dentists can provide this specialized treatment. You'll want to ensure that your chosen dentist offers exceptional care and has ample experience. At 32 Pearls, we are proud to be a Top 1% Diamond Invisalign® provider, ensuring our patients' highest level of care. Our team is accepting new patients and offering a special discounted rate for those who schedule their appointments early.
Invisalign First™ is better than braces.
Invisalign First™ is the revolutionary technology that takes the place of metal braces. If we can save a parent and a child from the hassle of outdated dental devices, we certainly will do that.  First is better than braces for several reasons.
No more metal poking gums

No more relentless tightening with pliers

No more rubber bands

Less pain

Trays are removable when needed 

Easier to use

Faster results
Invisalign First™ treats a wide range of dental misalignments in children. Not only does it straighten teeth, but it can also be an effective aid in correcting common speech difficulties when combined with other therapies. Addressing pronunciation and linguistic challenges early on is crucial, as they may worsen if left untreated. While Invisalign First™ may not entirely resolve these issues, it can help alleviate problems such as lisps, whistling while talking, and word slurring. Invisalign First™ is an excellent tool for boosting your child's confidence and overall health.
We see the change in young people daily following their Invisalign First™ treatments. Their ear-to-ear smiles say it all, and their confidence radiates when they grasp the benefits of proper dental health.
Invisalign First™ is now more affordable at 32 Pearls. We've reduced what others have charged for because we think everyone deserves the best oral hygiene on the planet.
Some types of insurance will pay for or pay a portion. We offer payment plans and will gladly explain many options, including FSA or HSA tax-deductible plans. 
Calling your insurance provider will give you the best idea of what is covered, and you can also talk to your employee benefits manager.
Treatment begins in three easy steps.
Schedule an appointment for your child's free smile assessment.

Come in for scanning day.

Receive trays and aligners complete with our

all-inclusive

package.
Remember all the FUN extras and accessories for your child's journey.
Customizable cases with spring colors, flowers, and unique designs

Decorative stickers for kid's aligners including sports teams, unicorns, animals, nature, emojis, fantasy, and gaming

NEW!! Cocofloss with strawberry, coconut, orange, and mint flavors

Patient products and aligner tools

Receive more information about Invisalign®.